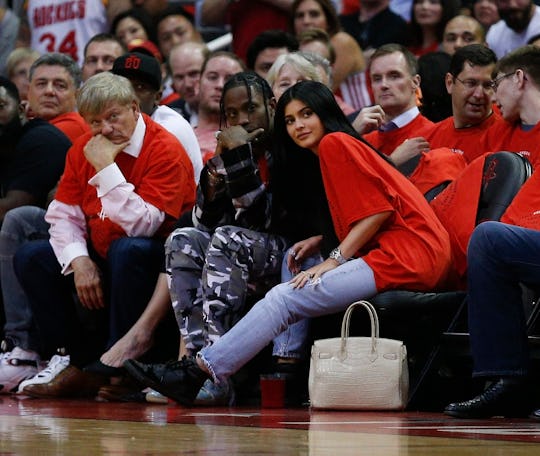 Bob Levey/Getty Images Sport/Getty Images
Will Kylie Jenner's Boyfriend Travis Scott Ever Be On 'KUWTK'?
If there's one family in America capable of stirring up enough rumors, speculation, and headlines to outlast a carton of almond milk, it's the stars of Keeping Up with the Kardashians. And with the looming rumor that Kylie Jenner is just one of the members of the famous family reportedly expecting a child, fans are sure to be wondering whether her boyfriend, Travis Scott, will ever be on KUWTK and if he'll ever address the rumors himself.
As fans already know, Jenner is allegedly pregnant with her first child, and Scott is the assumed father. However, there hasn't been any actual confirmation about this pregnancy rumor, which means that just about everyone is left wondering if it's true or not.
But, if this rumor turns out to be true, and Jenner is, in fact, expecting her first child with Scott, then it's a fair question to wonder whether the couple will appear on the family's show together. After all, the father of Kourtney Kardashian's kids, and ex-boyfriend, Scott Disick, became a major part of the reality series years ago. So, it only makes sense that fans would wonder if Jenner's reported boyfriend would also become a fixture on the show.
However, as of yet, there has been no announcement about Scott appearing on the hit show, which isn't surprising considering the amount of suspense already surrounding the family.
Indeed, Jenner seems to be purposefully teasing fans with her social media use ever since the news of the pregnancy broke in September. Seriously, just about everything she does becomes a headline.
But, so much awaits to be seen. While it wouldn't be surprising for Jenner to wait until an upcoming episode of KUWTK to formally announce her alleged pregnancy, that still doesn't mean her boyfriend will appear on the show with her. Jenner's older sister, Kim Kardashian, for example, is married to famous rapper, Kanye West, and he doesn't appear on the show nearly as often as his wife.
In fact, in an Auguat interview with The Hollywood Reporter, Kardashian revealed that even though her husband had relaxed his views on letting their kids be filmed for the show, he still wants to approve any scene he happens to appear in. "I will get it and show him," she told the publication, referring to cuts for West to approve of. "He knows that I'm really protective of him. He doesn't like to film everything. It's not his show."
Currently, Scott has yet to appear on the famed family's show or Jenner's own reality series, Life Of Kylie. However, the two have still spent quite a lot of time together since they reportedly began dating in April of 2017, according to Billboard. So really, their relationship is still pretty new, which means that the rapper could change his mind and end up appearing on one of the shows if Jenner's pregnancy rumors get confirmed.
But, based on Jenner's recent social media activity, it's unlikely that Scott will make a lot of appearances on the reality series. As of yet, Jenner hasn't really posted any photos of the two together, which could mean that Scott wants to remain out of the public eye, to some extent.
What's more, considering the fact that not one of Jenner's sisters — Kourtney, Kim, Khloé, or Kendall — has said anything to confirm or deny her reported pregnancy, it's likely that Scott will also remain quiet on the subject. And considering the famous family's flair for the dramatic, it wouldn't be too surprising if they were all waiting until an upcoming episode of KUWTK to reveal Jenner's pregnancy, or even just to deny it.
The Kardashian-Jenners are notoriously brilliant at keeping watchers and fans engaged, and whether that means Scott will appear on the show or not, they've certainly got everyone on the edges of their seats.
Check out Romper's new video series, Romper's Doula Diaries:
Watch full episodes of Romper's Doula Diaries on Facebook Watch.