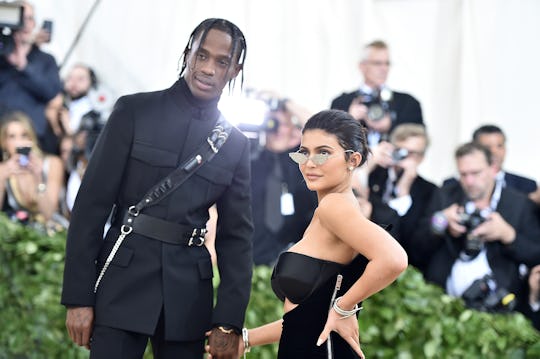 Theo Wargo/Getty Images Entertainment/Getty Images
Here's Why You Might Not See Travis Scott On 'KUWTK'
For better or worse, there's one family that world loves to keep up with — the Kardashians. And with Season 15 of Keeping Up With The Kardashians (KUWTK) right around the corner, fans are excited to see what's new with their favorite celebrity sisters, especially new mom Kylie Jenner. She has a huge fan following, a makeup empire, and a new baby girl, but fans are curious to know if they'll get to see her boyfriend on the show. Will Travis Scott be on KUWTK, or will he remain as elusive as he has been in the past?
There's no confirmation from E! on whether the rapper will be on the new season of KUWTK, and from what I can tell, it doesn't look like he will be. The show is filmed largely in Los Angeles where Jenner and the rest of the Kardashian clan live, but Scott still lives in Houston, so he's far away from all the KUWTK action. Then again, maybe the show will make a stop in Texas.
In a recent interview with GQ — which featured the couple's first photo shoot together — Jenner said that because they live in two different cities, the couple doesn't get to spend much time together. But after a recent fight over the phone, she flew to Houston to see him. "When we fight, it's usually just because we've been away from each other for too long and we didn't see each other for like two weeks," said Jenner. "And we have Stormi now, and I can't travel with her. She's too young. So it's harder to see each other, but I was like, I just need to go and fix this and go back."
But even if a camera crew flew with Jenner to Houston every time she went to see Scott, that doesn't guarantee that you'd see him on the show. The couple was unbelievably secretive about Jenner's pregnancy, and maybe Scott, like Kim Kardashian's husband Kanye West, doesn't want his life filmed. In the same GQ interview, the couple talked about how Scott likes to do his own separate thing. "I know he doesn't like the attention," Jenner told the outlet. "That's why we just go the extra mile to keep our relationship super private, or like, if he has events or something, I won't come, because I want him to do his own thing. I don't want it to be Kylie and Trav. If people don't ever see us together, that's okay with me, because we just do our thing."
When asked about his hesitation in getting involved with all the Kardashian drama, Scott told GQ that he doesn't really pay much attention to it and really prefers to stay out of it. "I'm on my own island," said the rapper. "I'm not into all the other sh*t. I don't get involved. I'm over here. Kylie is different." And for the most part, they do really seem to keep their personal lives out of the spotlight. On her Instagram page, Jenner has posted very few pictures of Scott and Stormi, and on his Instagram, Scott has posted only one picture of Jenner and one of Stormi.
The trailer for the new season of KUWTK is out, and in it you can see a lot of Kardashian sister drama, but there's not even one glimpse of Scott, who is currently promoting his new album Astroworld. I can't say for sure if Scott is going to be on the new season, but I'm guessing not.
The all-new season of Keeping Up With The Kardashians premieres on Sunday, August 5 at 9 p.m. ET on E!.