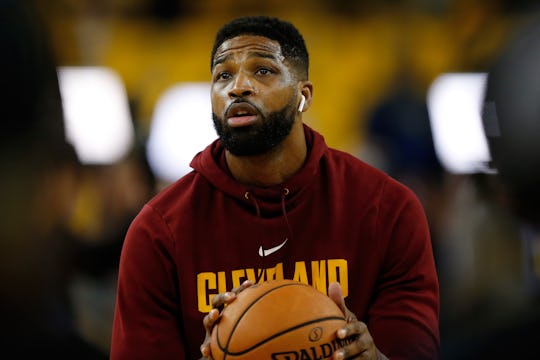 Lachlan Cunningham/Getty Images Sport/Getty Images
Tristan Thompson May Not Appear On Season 15 Of 'KUWTK,' But He'll Be Discussed
There's always a lot going on with the Kardashians but with the new season of Keeping Up With the Kardashians finally airing, all most people care about is seeing what happened when news of Tristan Thompson cheating on Khloé broke. Though Tristan has appeared on the show previously, fans can't help but ask will Tristan be on KUTWK this season?
Currently, it doesn't seem like Tristan will actually make an appearance, but he will still be the villain of Season 15. In an interview with Ryan Seacrest, Kim explained that after the cheating allegations came out there were a number of conversations amongst the family about the situation.
"We definitely all had that conversation and honestly I don't want to give too much away because we genuinely had those conversations," Kim said. "And sometimes we were filming and sometimes we weren't and it was more maybe when Khloé wanted her privacy and no cameras when she was in Cleveland going through that, [but] the sisters were still all filming and talking [about] how to approach it and what to do."
Shortly after the cheating allegations came out, Khloé then went into labor with her and Tristan's daughter, True. Khloé was alone in Cleveland at the time and naturally her sisters and mom all wanted to be there, which caused a little bit of drama as well.
"There was a moment where we were all flying to Cleveland when she went into labor and we were filming and [Kris] didn't want anyone to know she was in labor," Kim told Seacrest. "So my mom just left and got on a plane and then Khloé called us. We were with a bunch of other people in this live interview that she didn't want to know. So she goes and gets on a plane and then me and my other sisters get on another plane and we were like, 'This is so stupid! We all need to be together and go through this!' And it was like so much drama getting there."
Kim then assured fans that they'd "see it all" play out during Season 15 of the show, but whether or not Tristan will actually make a physical appearance remains to be seen.
Following the cheating scandal and the birth of their daughter, Khloé and Tristan have since reconciled and Tristan has reportedly made peace with the family and vice versa. However, shortly after the scandal tensions were high between Khloé's sisters and the NBA player. Kim went on The Ellen DeGeneres Show to discuss the situation with long time friend, Ellen, and called the whole thing "f*cked up." In retaliation, Tristan then blocked Kim on Instagram, however, he then unblocked her on Khloé's birthday in June, seeming to solidify the fact that they're back on good terms.
Although the Kardashians came together to be there for Khloé, this season there's already been some infighting amongst the eldest Kardashian siblings. Kim and Kourtney got into a fight when Kourtney said she didn't want to be a part of the Christmas card photo shoot that year. Instead, she wanted to use that time to be with her three children — Mason, 8, Penelope, 6, and Reign, 3. This frustrated Kim who then told Kourtney that no one wanted her in the shoot anyway and that she was the "least exciting to look at." Ouch!
This led to Kourtney calling Khloé in tears, saying, "I'm not here to be mistreated by my f*cking b*tch family." Kim was there when Kourtney called, and took the phone, continuing their fight. Kourtney then decided that she wouldn't attend Kim's baby shower because of all the drama.
As always, it seems this season of Keeping Up With the Kardashians will be filled with lots of family drama and fights. You can see new episodes of the reality series on Sunday at 9 p.m. ET on E!