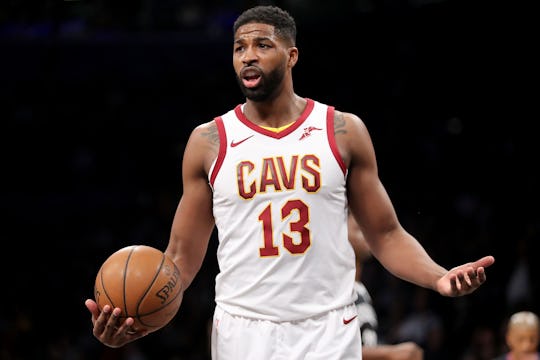 Abbie Parr/Getty Images Sport/Getty Images
Will Tristan Thompson Move To LA? The Basketball Player Might Just Be Exiled
So, Khloé Kardashian has had a week. Not only has she dealt with the simple task of giving birth (insert sarcasm here), but the reality star also had to deal with a lot of stress involving rumors about her baby's father, Tristan Thompson. It may have been a hope that he'd make a move to California, but in the midst of all the drama, it's hard to know whether or not Tristan Thompson will move to LA. It's clear that Kardashian has made her relationship with Thompson a priority up until recently, and she even traveled to Cleveland, Ohio, where he works, to give birth. But, now that so much has happened in such a short period of time, will Thompson be the one to make some sacrifices in order to make it work with the mother of his child? Well, it's kind of hard to say.
After all, after reports of Thompson cheating on Kardashian first made waves a couple of days before she gave birth, and neither Kardashian nor Thompson nor anyone in the Kardashian family, either, has given an official response to the allegations. Romper's requests for comment from both Thompson and Kardashian's team regarding the cheating allegations were not immediately returned. But, it was only Tuesday when the Daily Mail released video footage claiming to be of Thompson with someone who was not Kardashian.
Then again, it was only Thursday that the 33-year-old gave birth. So, fans shouldn't expect too much so soon.
Of course, though, there have been plenty of rumors flying about Kardashian's own plans after giving birth. According to People, a source revealed that after she delivered her healthy daughter, Kardashian just wanted to get home to LA as soon as possible. "The goal is to get Khloé out of there as fast as they can without jeopardizing the safety of the baby after she's arrived," the source told People. "Khloé just wants to be home."
But, will Thompson be joining her? It's kind of complicated. After all, before all the scandal went down, Thompson had reportedly been "looking to buy a pad in Bel Air, Bev Hills or the Hollywood Hills," to be closer to Kardashian and his future child, per TMZ. But now, that there's so much drama surrounding the couple, it's unclear whether or not Thompson will follow through with his plans to move to LA.
Additionally, when the baby news was still fresh, a source told HollywoodLife.com that Kardashian was even hoping Thompson would get traded to the Los Angeles Clippers so he could be around even more often. "Khloe wants her baby to be a California kid and grow up with her cousins and family close to her. Khloé feels family is the most important thing in the world, so she is hoping they get to move back to LA soon," the source revealed.
Again, though, so much has changed since Kardashian's pregnancy was first announced. Seriously, when Kardashian's happy news was first announced, a source told Entertainment Tonight that "Tristan is going to be 100 percent hands-on," and while that could very well be true, still, that doesn't necessarily mean that he'll be moving to LA now.
Additionally, if Thompson were to move to LA to be with Kardashian and the baby, it's likely that he'd have to work on winning over a lot of people. As a source told People after the cheating allegations were first made, the Kardashian family isn't exactly pleased with Thompson at the moment. "Kris is in Cleveland now giving Khloé as much support as possible and Kim is also heading there as well," the source said shortly after Kardashian went into labor. "They're trying to keep her emotionally stable. The whole family is beyond pissed at Tristan." So, while it's unclear what Thompson really intends on doing, it's obvious that the Kardashians are going to stand by their sister and daughter, no matter what.
Check out Romper's new video series, Bearing The Motherload, where disagreeing parents from different sides of an issue sit down with a mediator and talk about how to support (and not judge) each other's parenting perspectives. New episodes air Mondays on Facebook.