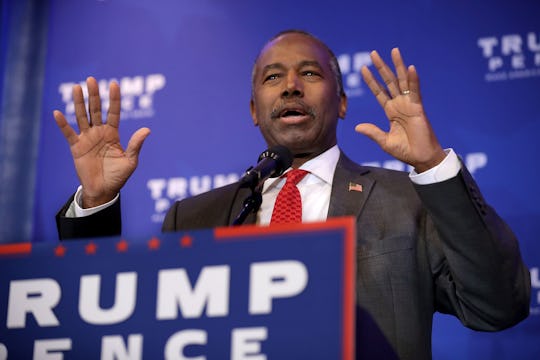 Chip Somodevilla/Getty Images News/Getty Images
Will Trump Appoint Ben Carson To His Administration? It Seems Likely
During President-elect Donald Trump's victory speech early Wednesday morning, he thanked multiple people for their help throughout his campaign: his family, his supporters, and even a couple of Republicans who ran against him in the primary election, including neurosurgeon Ben Carson. It was a well-deserved show of gratitude: Carson stumped for the hotel-mogul-turned-presidential-candidate in Florida, Iowa, Nevada, Arizona, and elsewhere across the country. But could there be more than just a public "thank you" in this for Carson? Will Trump appoint Carson to his administration?
Speaking in New York City following his victory, Trump acknowledged Carson for his work throughout the campaign. "Another great man who has been really a friend to me," he said, according to The New York Times. "But I'll tell you, I got to know him as a competitor because he was one of the folks that was negotiating to go against those Democrats: Dr. Ben Carson."
That was the entirety of Trump's public gratitude towards Carson, but being recognized during a victory speech means Carson was instrumental to Trump. (The same cannot be said for Sen. Ted Cruz, who led Trump on a wild ride for his support after being defeated by him in the primary.) And some people believe that Carson's loyalty to Trump may have earned him a top spot in Trump's upcoming administration.
According to Politico, Carson could fill a role in Trump's Cabinet as Health and Human Services secretary. During a speech in Pennsylvania, Trump himself even suggested that he'd be taking Carson with him to the White House. "I'd also like to thank Ben Carson," he said at the event, according to C-SPAN. "Not only a great man, and I don't say that about a lot of people, but one of the toughest competitors I've ever faced. People don't know how well he did during those primaries. ... But even more importantly, he's a brilliant physician and I hope he will be very much involved with my administration in the coming years."
According to The Washington Post, Carson could also be in the running for the role of education secretary. "I was most impressed with his views on education. It's a strength. It's a tremendous strength," Trump said of Carson last March, vowing that Carson "is going to be involved" with the Trump administration.
Carson's has some interesting views on both healthcare and education that are important to note. The neurosurgeon opposes Obamacare, is vehemently pro-life, and would like to see Roe vs. Wade overturned. He also dislikes the Common Core, does not believe in evolution, and believes free college tuition would be "the destruction of the nation."
While Trump hasn't actually confirmed whether or not Carson will be a part of his future Cabinet, things look promising for the surgeon. If he does make it, it will certainly be interesting see if his skills in the operating room translate to success across the states.