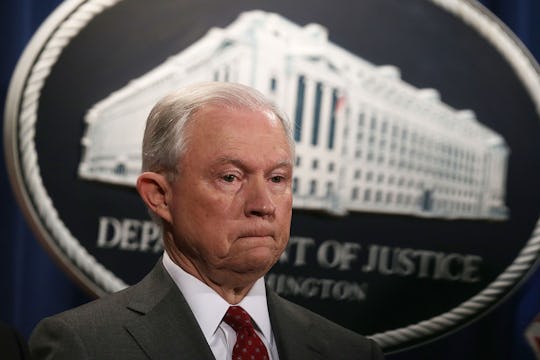 Alex Wong/Getty Images News/Getty Images
Here's Why Trump Can't Really Fire Jeff Sessions
Many people have known the pain of having a bad boss. They make you stay late. They yell at you. They assign you terrible projects. But most people probably haven't had the attorney general's unique experience of being subjected to scathing performance reviews via press conferences and social media, which leads the public to wonder, will President Donald Trump fire Jeff Sessions? While such humiliation honestly couldn't happen to a better guy, it's probably not going to happen, because there's likely no benefit, and Trump won't do anything that doesn't benefit him directly (see also: his stances on Syrian refugees, affordable health care, the entire country of Mexico, et al).
Sessions was the first senator to endorse Trump during the election, and his loyalty was rewarded, for a time. But as the president's failures mounted, and he looked for others to blame, Sessions name eventually came up. In an early June tweet, Trump blasted the Justice Department for the defeat of his "watered down travel ban." Soon after, sources told Reuters that Sessions offered to resign, but advisers had urged Trump to keep him on. The rift seemed to have healed as Trump's focus shifted to other matters, but he circled back to Sessions again as the Russia investigation heated up.
Trump went on a tirade in late July, telling The New York Times that "Sessions should have never recused himself" from the investigation, and if Trump had known that he planned to, "I would have picked somebody else." He also added that it was "very unfair to the president." Over the next week, Trump issued several tweets (some as early as 3 a.m.) lambasting Sessions for not investigating "Crooked Hillarys [sic] crimes," and calling the Attorney General "weak." This, of course, at odds with Trump's November assertion that he was retiring the "lock her up" rhetoric.
Trump was also critical of Sessions in interviews, telling The Wall Street Journal that he believed Sessions only endorsed him because he was popular in the then-senator's state of Alabama. He also said he was "very disappointed in Jeff Sessions," according to USA Today. During a Rose Garden appearance, according to the Los Angeles Times, he reiterated that sentiment, and hinted at firing him: "We'll see what happens. Time will tell. Time will tell." Axios also reported that Rudy Guiliani was being considered as a replacement.
But Senate Republicans aren't on board with Sessions' ouster. Iowa Sen. Chuck Grassley, chairman of the Judiciary Committee, tweeted that his committee's agenda was already set for the year, and it would not confirm a replacement attorney general. CNN reported that several other Republicans on the committee had also voiced support for Sessions, and South Carolina Sen. Lindsey Graham said if Sessions was fired, "there will be holy hell to pay." Privately, according to CNBC, Trump's new Chief of Staff John Kelly has assured Sessions that his job is not in jeopardy. Firing him would ruin what little good will the Republicans have for Trump, and there's no way he could cram through a more "loyal" attorney general. But that doesn't mean he won't stop insulting him.