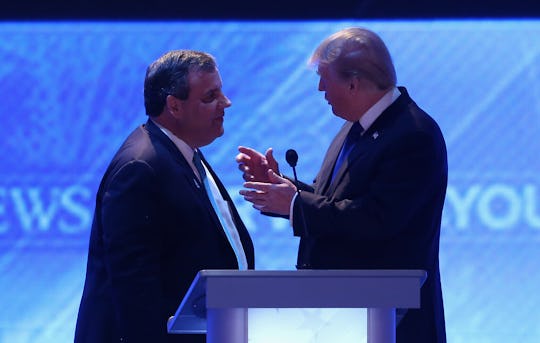 Joe Raedle/Getty Images News/Getty Images
Will Trump Make Chris Christie His Running Mate & Possible Vice President? Christie Dodged The Question
New Jersey Gov. Chris Christie endorsed Donald Trump. It's an unexpected move, but it may be life-changing for Christie. Will Trump make Christie his running mate and vice president? It definitely seems like a possibility.
During a press conference aired on CNN, Christie endorsed Trump and then accepted questions from the press. When asked whether he was eyeing a cabinet appointment or vice presidential run, Christie replied, "I am governor of the state of New Jersey until January 19, 2017," adding that he expected to fulfill the rest of his term. When asked if he would accept an appointment, Christie said he hadn't been offered a position and won't speculate. His answer left the possibility of a vice presidential run open, which is exciting news for Christie supporters who thought his shot at the White House ended on Feb. 10, according to The New York Times. Christie ended his own presidential run shortly after attacking Florida Sen. Marco Rubio during the pre-New Hampshire primary debate. Christie accused Rubio of repeating an answer multiple times; though it didn't help Christie, it did slow the momentum building around Rubio.
While offering his endorsement, Christie mentioned his decade-long friendship with Trump, The New York Times reported. He said Trump "will do exactly what needs to be done to make America a leader around the world again." He also joined the businessman in attacking Rubio after the senator went on the offensive during Thursday's debate. Christie expressed anger at Rubio, and Trump mocked him for wearing too much makeup. The insults followed a series of statements trump tweeted Friday:
Trump may not be interested in Rubio as a running mate, but history suggests he's not opposed to choosing one of the Republicans who've run against him. Trump said he did have "respect" for other candidates, according to CNN. He revealed that his first priority in selecting a vice presidential candidate would be choosing someone prepared to lead the country, if necessary, but he also mentioned that it's important to him to select someone more deeply embedded in the political side of the job. Trump said, "I'd want someone who could help me with governing. You want somebody that can help you with legislation, getting it through." In that sense, Christie could be an asset: as governor of New Jersey, he knows what it takes to get legislation passed and has insider political knowledge that could be seriously valuable. Could a Trump/Christie ticket be on the horizon? Voters will find out soon.