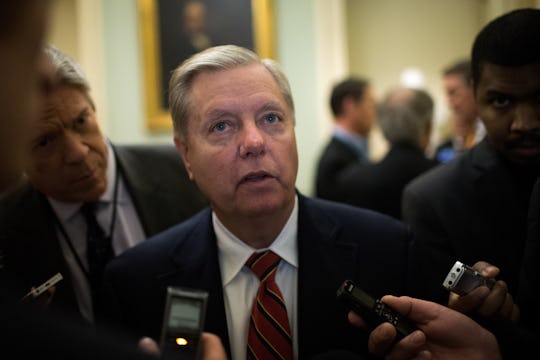 Drew Angerer/Getty Images News/Getty Images
Will Trump Make Lindsey Graham His Vice President? They Apparently Reached A Truce
Let's face facts: Donald Trump is the Republican candidate for president. That reality has been dawning on members of both parties slowly, sometimes with denial, sometimes with excitement, and sometimes with dread. The next big milestone in his campaign will be to choose a running mate. Though Trump is a self-described loner, this is one requirement he won't likely be able to dodge. So who is it going to be? There has been plenty of speculation, especially given the number of enemies and adversaries he's made over the course of his campaign, one of the more vocal of which is South Carolina Sen. Lindsay Graham. Despite their tiffs early on, will Trump make Lindsay Graham his vice president? The two had a friendly chat recently that has people speculating.
The suspense may be over sooner than expected. According to the Associated Press, Trump said this week that he is currently considering candidates. Though he has extensive experience judging beauty pageants, this is a slightly different challenge. Trump has enough ego and personality for two people (probably even more than two people), but he said he's looking for someone to fill a gap in his qualifications: considerable political experience.
Trump has been a hugely polarizing figure so far in his campaign for the presidency. He's been spurned by a number of Republican leaders; there are many within his own party who have refused to endorse him (former Florida Gov. Jeb Bush and House Speaker Paul Ryan, just to name a few); and, he's even inspired a "Never Trump" counter-campaign among his staunchest critics. Graham himself has said that he would never support Trump. In an interview with CNN, he said, "I think embracing Donald Trump is embracing demographic death." He also said:
I just don't think Donald is a reliable conservative Republican and quite frankly, he lost me when he said my friend John McCain was a loser because he was captured as a POW. He lost me when he accused George W. Bush of lying to the American people about the Iraq War, and he thinks Putin's a good guy, so, I just can't go there. I respect people who can't, and to Donald Trump, congratulations. You did a hell of a thing. You beat me and everybody else and I just really believe that the Republican Party has been conned here and this guy is not a reliable conservative Republican.
But, that was all before Trump called up Graham on the phone on Wednesday and they had a 15 minute chat about national security that ended in an agreement to not insult each other anymore. Speaking to the Washington Post on Thursday, Graham said, "he won." He even called Trump "very funny" and said "he obviously can take a punch." While that call did not result in an endorsement from Graham, one has to wonder, what did they talk about?
To add more evidence to this theory, yesterday at the 2016 Fiscal Summit, Graham was asked about Trump's support of raising the minimum wage (which, as one might imagine, is not a popular stance in the GOP). It seems as though the moderator was looking for some exciting backlash, but, very surprisingly, Graham said, "I think he might be on to something there." He went on to say that he appreciates that Trump is expanding the appeal of the party and making it more accessible and attractive to "the working man." These kind words are very shocking, especially from the man whose closest ally and friend in the Senate is Arizona Sen. John McCain, the veteran Trump insulted and an active member of the anti-Trump coalition.
This, too, is speculation, but as Trump makes more phone calls and more outspoken critics become sheepish supporters, it's clear something is a-brewing. But until he makes his announcement at the Republican National Convention in July, it's anyone's guess.