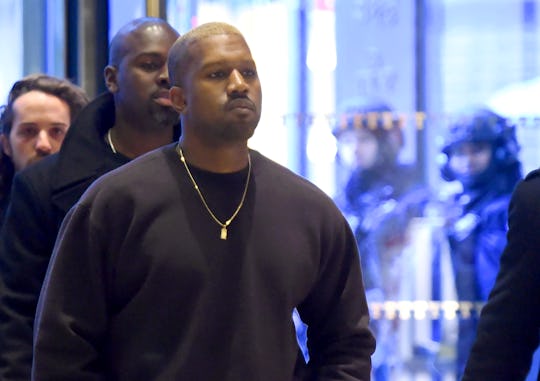 TIMOTHY A. CLARY/AFP/Getty Images
Will Trump Offer Kanye A Job? No, This Isn't A Joke
Oh Yeezus! Kanye West, with full entourage in tow, showed up Tuesday morning in the gold-plated lobby of Trump Tower. Will Trump offer Kanye a job? Maybe an ambassadorship? In this crazy political environment, anything is possible.
Here's actual video evidence of Kanye sashaying into the Trump Tower. Trump's spokesman Hope Hicks confirmed the rapper had a meeting with the president-elect although it's not clear what the two were there to discuss, according to The Hill. No sight of West's wife, Kim Kardashian, either. What in the world could these two be up to? Remix of "Hail to the Chief"? West didn't take any questions from reporters as he walked in, according to The Hill.
West was just released from UCLA Medical Center after going on a series of bizarre rants during his concerts, including one where he expressed support for Trump, according to CNN. According to The Daily Mail, West was subsequently treated for a nervous breakdown, shortly after the rants.
West has expressed real admiration for Trump in the past, very publicly. "I don't think his approach was just entertaining, because that trivializes it," West said about Trump during one of his concert rants just before he was admitted to the hospital, according to SPIN. " I actually think his approach was absolutely genius. Because it f--king worked."
West wasn't finished. "We live in a racist country," West said about Trump's election, according to SPIN. "That is a fact. This world is racist, OK? Let's stop being distracted to focus on that as much. It's just a f--king fact. Period." (Side note: Does anyone know what Kanye thinks about Russian President Vladimir Putin?)
According to The Daily Mail, it was West who requested a 15-minute meeting with Trump joined by his mother-in-law, Kris Jenner's boyfriend Corey Gamble. The Mail speculates that West is considering performing at Trump's upcoming inauguration, which could prove to be quite a spectacle.
After the meeting, Trump and West mugged for cameras in the Trump Tower lobby. "Just friends and he's a good man," Trump said about West after the short meeting, according to CNN. "We've been friends for a long time."
Here's the video of the strange encounter.
After avoiding questions, West told reporters, "I just wanted to take a picture right now." Then the two hugged and the encounter seemed to be over.
The meeting with West comes at a time when the president-elect is under fire for cancelling a scheduled press conference to discuss how he will avoid conflicts between his role as head of the Trump organization and head of the country, according to Politico, opting instead to send out vague tweets like these from Tuesday:
"Busy times!" Trump tweeted. Trump also said during an interview on Fox News Sunday that he doesn't get daily intelligence briefings because, "you know, I'm like a smart person," he said, according to The Washington Post.
Priorities, I suppose.