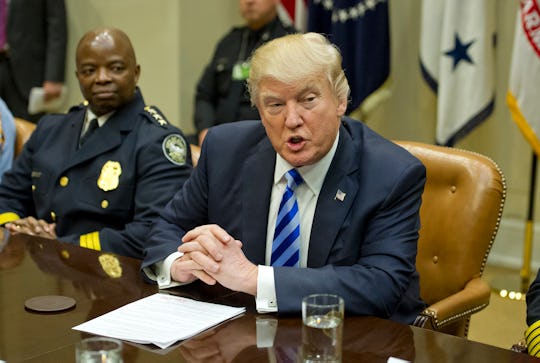 Pool/Getty Images News/Getty Images
We Still Don't Know If Trump Will Release His Tax Returns
Despite President Donald Trump's claims to the contrary, many Americans want him to be more transparent about his taxes. Over 100,000 people even turned out for rallies over the weekend, demanding to see his returns. But will Trump actually release his tax returns? The White House is still saying no. And that means that, although Democrats are tired of asking the question, they probably won't be able to stop anytime soon.
Almost every major presidential candidate since the 1970s has released their tax returns during the election process, but Trump notably broke precedent and abstained, claiming he could not do so because he was being audited by the IRS. (The White House did not immediately respond to Romper's request for comment.) Though the IRS responded with a statement that he was free to release his returns, Trump and his team have continued to use the "under audit" excuse as recently as Monday, when White House press secretary Sean Spicer told reporters wondering whether the tax marches swayed Trump,
We're under the same audit that existed, and so nothing has changed. I think the president's view on this has been very clear from the campaign, and the American people understood it when they elected him in November.
Actually, many of the American people are concerned about Trump's foreign ties, and any potential conflicts of interest he may have. His tax returns would help clear up such concerns.
So, while it is frustrating to have to keep asking the same question over and over again, many Democrats are determined to keep pushing for transparency. And as The New York Times reports, they will soon have a new weapon in their arsenal.
Trump has promised to reveal a sweeping tax reform plan very soon, and he badly needs a political win right now. But, if the health care debacle was any indication, passing a huge change to the tax code will not be an easy task, and the White House will require cooperation from the Democrats to get anything done. However, according to The Times,
[Democrats] are uniting around a pledge not to cooperate on any rewriting of the tax code unless they know specifically how that revision would benefit the billionaire president and his family.
And to know specifically and accurately, they would have to... that's right, see his tax returns. And the clamor is growing. Even some Republicans are now joining in on the call for Trump to release the returns.
Soon, Trump may be in between a rock and a hard place. We'll have to wait and see if he manages to wriggle out of it with the privacy of his returns still intact.