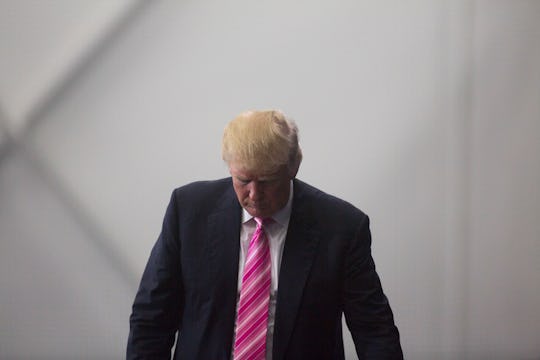 Jessica Kourkounis/Getty Images News/Getty Images
Will Trump Release His Taxes Now That His Returns Were Made Public? Probably Not
It's been a long campaign for Republican presidential nominee Donald Trump, and he's managed, surprisingly enough, to avoid releasing his tax records throughout the entire thing. While his opponent, Democratic candidate Hillary Clinton, has continued to press Trump to release his taxes, the rest of the world largely accepted the fact that Trump simply wouldn't be releasing his tax records and moved on. Now that The New York Times has published information on Trump's alleged 1995 tax returns, though, will we see a change of heart from the Trump campaign? Will Trump finally release his taxes?
It's a worthwhile question. According to the New York Times piece, Trump allegedly reported a staggering $916 million loss in his 1995 income tax return. That deduction could have worked in Trump's favor, letting him avoid federal income taxes for the next 18 years. Since the news broke, many have criticized the real-estate-mogul-turned-nominee, and the report has renewed the call for Trump to release his taxes.
However, chances are slim that Trump will actually cave to the pressure. In the past, Trump has claimed that his taxes are being audited by the Internal Revenue Service, and that he will release his taxes as soon as the review is complete. ("Every year they audit me, audit me," he said in February, according to The Washington Times.) Former New York mayor Rudy Giuliani, who has advocated for Trump, told ABC that those plans hadn't changed since the New York Times report came out.
"He's going to produce the returns when the audit is finished so that everything is clarified, so that people can't misinterpret what he did," Giuliani said on Sunday. "Remember, this man has been audited every year. Never once has a criminal charge been brought against him. Never once has he been accused of violating the law. He operates. He understands the law. He operates within it."
New Jersey Governor Chris Christie also spun the New York Times story as positive. "What it shows is what an absolute mess the tax code is," Christie said on Sunday, according to The Chicago Tribune. "There's no one who has showed more genius to maneuver around the tax code."
Opponents, however, weren't buying Trump supporters' excuses. Robby Mook, Clinton's campaign manager, released a statement on Saturday saying, "Now that the gig is up, why doesn't [Trump] go ahead and release his returns to show us all how 'smart' he really is?"
Judging by Trump's reaction so far, however, chances are low that he'll be sharing his tax records anytime soon.