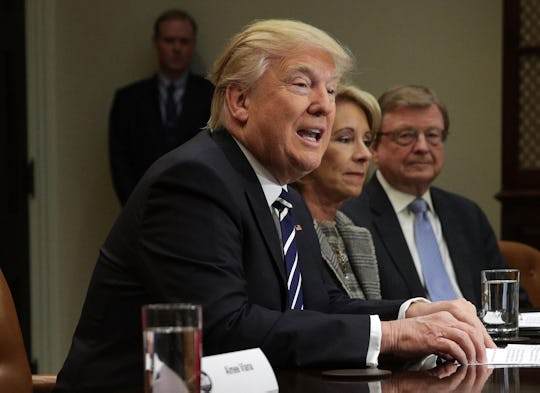 Alex Wong/Getty Images News/Getty Images
Trump's Refusal To Address Russia Is Concerning
Even before he was elected to the United States presidency, Donald Trump and his relationship with Russia were the source of much contention among both the public sphere and on Capitol Hill. Now, despite the fact that he's not even been in office a month, Trump is dealing with the resignation of one of his appointees over concerns related to Russia. National Security Advisor, Michael Flynn, stepped down on Monday night as pressures rose in Washington regarding Flynn's possible conflicts of interest with Russia and a phone call he had with a Russian ambassador, prior to his appointment, regarding sanctions, which is a breach of protocol. Then on Tuesday, Trump's loyalty to his own country was put to the test as reports that Russia had reportedly deployed a missile began to surface. So, will Trump respond to Russia's missile deployment, which, sources say, may have violated a Cold War treaty? Or will he sweep it under the rug in favor of currying friendship with Putin?
As The New York Times reported, "Russia has secretly deployed a new cruise missile despite complaints from American officials that it violates a landmark arms control treaty that helped seal the end of the Cold War." While Trump's residency is still relatively new, much speculation has already been made that Trump's relationship with Russia, and especially Russian President Vladimir Putin, is a little too close for comfort. Trump himself stated on the campaign trail last April, "I'm saying that I'd possibly have a good relationship [with Russia and Putin]. He's been very nice to me."
Trump's compliments of Putin have sparked a great distrust and understandable concern among many Americans, many who believe the president may be indebted to the Russians somehow, or, at best, not catering to the United States' own interests as he said he would.
Reports have also emerged that Trump himself actually was informed about Flynn's dealings with Russia weeks ago, yet made no moves to act on any of the information, according to intelligence officials. And as Flynn's resignation just happened last night, it's a little concerning that this isn't even the latest issue in terms of Trump's relationship with Russia. As the missile deployment by Russia on Tuesday reportedly violates the 1987 Intermediate-Range Nuclear Forces (INF) Treaty, it's crucial that Trump responds to this action with authority and with the safety of our own nation as his new guiding principal.
Obviously, Trump has been extremely critical of other nations deploying missiles and has claimed to be very concerned with the potential risks associated with immigration of people from seven specific majority-Muslim countries, however, he has stayed relatively silent, declining to critique Russia and its military in any capacity.
It's no secret that the Trump administration is already entrenched in scandal, but the question remains whether Trump himself will speak out against Russia's recent actions, or do anything about them to protect our country and our allies. For now, frustrated Americans will have to wait and see, it seems.