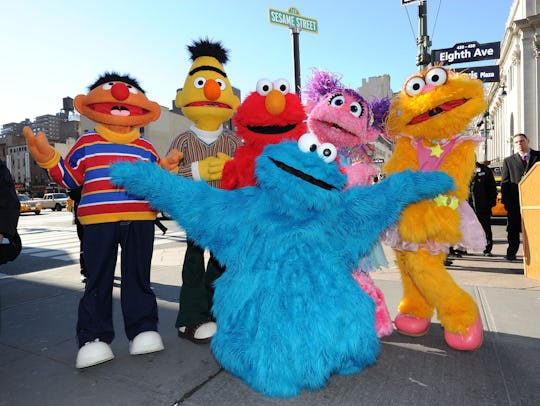 Jason Kempin/Getty Images Entertainment/Getty Images
How Trump's Budget Proposal Targets 'Sesame Street'
While President Donald Trump on Thursday proposed a budget aimed at bolstering military spending and funds to jumpstart the construction on a wall along the Mexican border, he slashed hundreds of federally-funded programs and agencies as well — including public broadcasting networks that host some of the most beloved kid's shows on TV. As PBS fired back at the president in response to the budget cut, people are asking themselves a rather odd, but understandable question: Will Trump really take Sesame Street off the air? Well, he's certainly trying to slash similar programs in an attempt to find the cash for his $1.15 trillion proposed budget, but the beloved program's longtime fate is now in the hands of Congress.
Since PBS has been the longtime home of Sesame Street for nearly 50 years, if the nonprofit Corporation for Public Broadcasting that funds the public channel gets cut from the federal budget, then it's likely that Elmo, Big Bird, and the Cookie Monster could go down as well.
It's important to note that new episodes for the next five seasons of Sesame Street will continue to air on HBO, given that Sesame Workshop — the nonprofit educational organization behind the show — struck a deal with the premium network in August 2015. The episodes currently air (on a lag) for free over on PBS. So while Sesame Street won't be directly or immediately impacted by the proposed budget cuts, the many kids who rely on public television or can't afford premium subscriptions may never get to see the new content.
Fortunately, though, PBS isn't going down without a fight and officials are ready to answer any question the president or Congress throws its way.
"PBS and our nearly 350 member stations, along with our viewers, continue to remind Congress of our strong support among Republican and Democratic voters, in rural and urban areas across every region of the country," PBS president and CEO Paula Kerger said in a statement on Thursday afternoon. "We have always had support from both parties in Congress, and will again make clear what the public receives in return for federal funding for public broadcasting."
Kerger's statement continued, "The cost of public broadcasting is small, only $1.35 per citizen per year, and the benefits are tangible: increasing school readiness for kids 2-8, support for teachers and homeschoolers, lifelong learning, public safety communications and civil discourse."
The statement also pointed out that two recent national surveys found that "voters across the political spectrum overwhelmingly oppose eliminating federal funding for public television."
Sesame Workshop also issued a statement this week in response to the proposed budget cuts, highlighting how its wide accessibility gives every child an opportunity to learn and be entertained. The statement read:
PBS makes Sesame Street available to all Americans and thereby continues to play a major role in helping less privileged kids gain access to preschool education that has proven and enduring value. While Sesame Workshop currently receives no direct funding from CPB or PBS, we stand firmly and passionately in support of the vital public investment that allows them to continue this important work.
(Sesame Workshop does not receive direct funding from PBS or CPB, but does obtain "grants and contracts from governments and government agencies to support the development, production and distribution of educational content, according to the organization's most recent financials.")
Taking away public access to an educational and favorite childhood program like Sesame Street will only hurt the nation's young minds and the less privileged kids who can't turn on HBO whenever they'd like to see what Oscar the Grouch was grouchy about this week. An investment in public programs is an investment into the nation's future. However Trump's team decides to defend this action, let's hope Congress keeps the little ones in mind.