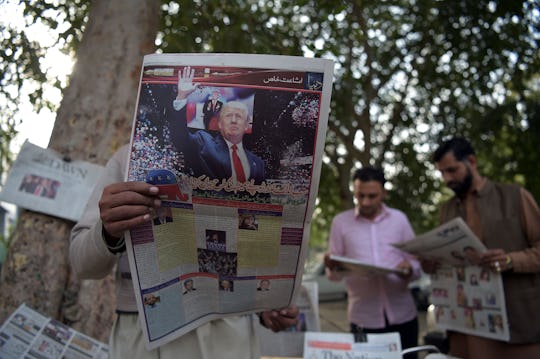 AAMIR QURESHI/AFP/Getty Images
Will Trump Visit Pakistan? He Thinks The Country's Prime Minister Is "Terrific"
Soon after Donald Trump shocked much of the world by winning the presidency, The New York Times reported that some foreign leaders were struggling to contact him by "blindly" calling Trump Tower. Now, as the nation acclimates to the looming reality of a "President Trump," he's filling out his Cabinet, determining what to do about the conflicts of interest of unprecedented scale associated with his sprawling international business holdings, and connecting with the other key political players across the globe. And on Wednesday, he had a widely publicized phone call with the prime minister of Pakistan, leading to the possibility that Trump will visit the country — and he does, apparently, think its leader, Muhammad Nawaz Sharif, is a "terrific guy" running an "amazing country."
Update: In a statement to the press on Wednesday night, Trump transition reps stated, "President-elect Trump and the Prime Minister of Pakistan Muhammad Nawaz Sharif spoke today and had a productive conversation about how the United States and Pakistan will have a strong working relationship in the future. President-elect Trump also noted that he is looking forward to a lasting and strong personal relationship with Prime Minister Sharif."
Before the phone chat between the PM and soon-to-be Commander in Chief — two countries that share a relationship that the Obama White House has characterized as "strong and enduring," —Trump displayed a less favorable view of the Middle Eastern nation. "Get it straight: Pakistan is not our friend," he tweeted in January 2012."We've given them billions and billions of dollars, and what did we get? Betrayal and disrespect—and much worse. #TimeToGetTough."
But according to a Pakistani government-released summary of the call, which Sharif reportedly placed to congratulate Trump on his win, Trump was reportedly enthusiastic about working with the prime minister.
Despite his previous condemnation of the country, Trump reportedly responded to an invitation to visit by saying that he "would love to come to a fantastic country, fantastic place of fantastic people," according to the readout. Romper reached out the the Trump campaign to ask whether he plans to visit Pakistan and to confirm the reported content of the phone call, especially those quotes attributed directly to the president-elect, and has not yet heard back.
"Please convey to the Pakistani people that they are amazing and all Pakistanis I have known are exceptional people," Trump reportedly said during the phone call.
According to the New Republic's Jeet Heer, there's much that's unorthodox about Trump's phone call with Sharif: As he has when speaking with other world leaders, he spoke to the prime minister on a personal line and without prior preparation, which is a breach of State Department protocol; Again, his team did not provide a readout itself, forcing American media to rely on foreign sources. It's also highly unusual for a president to agree to visit such a "fraught area" without careful consideration with other U.S. officials.
But if Trump's flip-flopping stance on Pakistan is any indication — also in 2012, he called the country out in a tweet for "providing safe sanctuary" for 9/11 mastermind Osama bin Laden and referred to it as an "ally" in quotation marks — it's entirely reasonable to write the promise off as bluster and noncommittal showmanship.
Except the president of the United States doesn't have the luxury of making throwaway comments without making a significant political impact. While still campaigning in October, Trump said during an event with the Republican Hindu Coalition that he planned for the United States and India to "be best friends" under his leadership, a statement with hefty political implications considering that Pakistan and India are constantly feuding arch rivals.
Just before that appearance, though, Trump told the Hindustan Times that he would "love to be the mediator or arbitrator" to help repair this relationship. It's hard to foresee what effect the president-elect's praise for Sharif will have on his diplomatic ties with each of the nations, however. And there was a lot of praise in the phone call, according to the word-for-word transcript:
Prime Minister Nawaz Sharif you have a very good reputation. You are a terrific guy. You are doing amazing work which is visible in every way. I am looking forward to see you soon. As I am talking to you Prime Minister, I feel I am talking to a person I have known for long. Your country is amazing with tremendous opportunities. Pakistanis are one of the most intelligent people. I am ready and willing to play any role that you want me to play to address and find solutions to the outstanding problems. It will be an honor and I will personally do it. Feel free to call me any time even before 20th January that is before I assume my office.
(According to The Washington Post, Sharif's reputation in his country is less glowing than Trump's compliments indicate, as allegations of corruption mar his office and there's an ongoing investigation there about potential conflicts of interest.)
It's no surprise that the phone call between Trump and Pakistan's prime minister has people talking. And it certainly poses more questions than it answers about how Trump will govern.