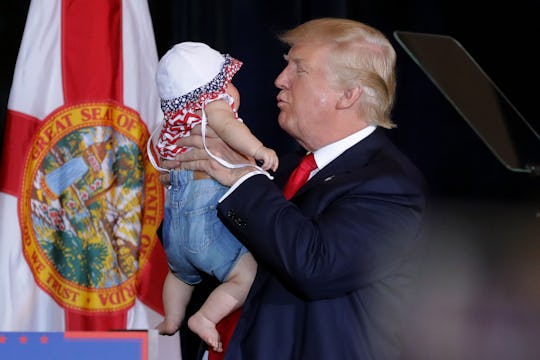 Chip Somodevilla/Getty Images News/Getty Images
Will Trump's Healthcare Plan Cover Breast Pumps?
There may be no one more uncertain about what will happen to their health care than new moms. That's because President-elect Donald Trump has been consistent about putting an end to the Affordable Care Act, and no one is sure of what he will replace it with. For working moms who hope to breastfeed, Trump's new plan could make or break that decision. That's because moms need breast pumps in order to pump milk away from home, and if the new healthcare plan doesn't cover the pumps, breastfeeding may be too expensive to consider an option. So will Trump's healthcare plan cover breast pumps?
Since the Affordable Care Act took effect in 2010, it required insurers to provide breastfeeding support to encourage women to breastfeed.
One of the ways the Affordable Care Act, or "Obamacare" helped all women breastfeed was to require insurers to cover the costs of breast pumps, which can cost $400, or rented for $40-$65 a month.
But what's unclear is whether mothers will now have to pay out of pocket for the pumps. On Wednesday night, the Senate voted to take the first step to repeal the Affordable Care Act.
Vice president-elect Mike Pence has been a bit more specific about what that will entail in a statement on Wednesday, NBC reported.
We're working...to begin to craft legislation that will repeal the most corrosive elements of Obamacare — the individual mandate, the taxes, the penalties — but at the same time, moving separate legislation that will allow us to introduce the kind of reforms in American health care that'll lower the cost of health insurance...
But it's unclear what parts of Obamacare will stay and what will go.
In order for coverage of breast pumps to continue, the legislation to replace the Affordable Care Act needs to "maintain the provision that says insurers must cover Women's Preventive Services," a spokesperson for the U.S. Breastfeeding Committee explains to Romper.
Even if continued coverage of Women's Preventive Services had been mandated, the Dept. of Health would still need to specify that breast pumps are covered within the Women's Preventative Services guidelines.
Megan Renner, Executive Director of the United States Breastfeeding Committee, tells Romper that they are "working to ensure that the breastfeeding-related components of the Affordable Care Act are retained in any repeal/replacement scenario," and:
[That] includes insurer coverage of breastfeeding counseling and pumps and the requirement for employers to provide break time and a private place for breastfeeding employees to pump during the work day.
One of the major goals of Republicans is to lower healthcare costs without increasing the size of the federal government. Once that happens, a legislation and policy briefing from the United States Breastfeeding Committee suggests that there will likely be more interpretation of breastfeeding coverage from insurers or even individual states.
That probably isn't a good thing, since even under the Affordable Care Act many women had trouble finding a breast pump made by a medical supply company that would take their insurance, The Huffington Post reported in 2013. And just 12 percent of marketplace plans included maternity benefits, according to a report from the National Women's Law Center. With less regulation, even if breast pumps were covered, it'd be harder to ensure that's actually the case.