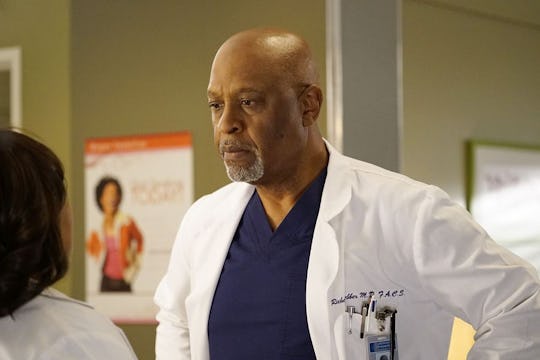 Kelsey McNeal/ABC
Will Webber Get Fired On 'Grey's Anatomy'? Dr. Minnick Might Take His Job
Dr. Webber has been teaching at Grey Sloan Memorial Hospital since the days it was called Seattle Grace Hospital. Now it seems his days there could be very well numbered and Dr. Webber will get fired on Grey's Anatomy. From the very first season of Grey's, Dr. Webber has been a fundamental part of the hospital. For 13 years he's given excellent wisdom, professional advice, and been a good friend and father figure to so many doctors that have come and gone from these hallowed halls. In short, to see Dr. Webber go would be heartbreaking, but it looks like he's on his way out.
After Dr. Webber's wife, Catherine Avery, came to the hospital to see about getting Alex fired, she came to a different conclusion. The return of Leah Murphy, who found success working at another hospital, made Catherine question if it was really the residents that were the problem at Grey Sloan or the teaching staff. As it is, Alex is an attending at Grey Sloan and he's soon going to be on trial for beating up a resident. That doesn't exactly shine a respectable light on the teaching hospital.
Similarly, Bailey's husband, Ben (another resident), performed an unnecessary emergency C-section and yet wasn't fired. And let's not forget how the original group of interns — Alex, Izzie, Cristina, George, and Meredith — were all a part of cutting Denny's LVAD wire in an effort to get him a new heart. So maybe Catherine has a bit of a point. Something has to change at this hospital.
That all being said, Catherine and Bailey decided to bring in Dr. Minnick, a new teaching consultant whose methods could potentially help out with the residency teaching program that Dr. Webber currently runs. After the residents fell in love with her and the attendees couldn't stand her, Dr. Minnick told Bailey she was very interested in accepting the job, but on one condition — she won't work alongside Dr. Webber. She likes him well enough, but she wants to be the one and only boss.
So Bailey has to decide if she's willing to give Dr. Minnick the job and fire Dr. Webber or pass on Dr. Minnick and let things continue on the way they've been. Even though Catherine is Dr. Webber's wife, it seems clear that she'll want Dr. Webber out and Dr. Minnick in. Viewers will just have to wait and see what Bailey decides to do.