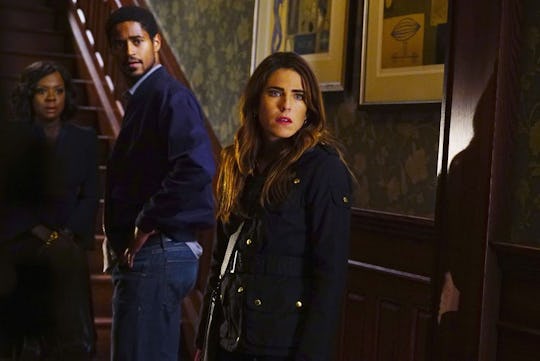 Richard Cartwright/ABC
Will Wes & Laurel Hook Up On 'How To Get Away With Murder'? It's Definitely Possible
The relationships on How to Get Away with Murder are almost as interesting as the continuous murder plots they have going on. Laurel fell in love with Frank, Asher hooked up with Bonnie, Michaela's fiancé turned out to be gay, and now she's hooking up with Asher. Through all the romantic drama you may have forgotten that Wes and Laurel also shared a passionate moment during Season 2 when they kissed. Although they both seem to be leaving it the past one has to wonder will Wes and Laurel hook up on How to Get Away with Murder? Wes' girlfriend, Meggy, seems to think so.
When Laurel went to visit her father and try to get information about her father Wes was really worried about her and Meggy could tell. She accused him of having feelings for Laurel but Wes quickly denied it, saying he's only interested in Meggy. Although Meggy seemed to believe fans aren't that sure. Laurel and Wes have always been close since the very beginning. Laurel defended Wes against the rest of the Keating Five time and time again and went above and beyond to help Wes find out the truth about his mother. Similarly, Wes was there for Laurel when she was going through her relationship drama with Frank.
After Frank killed Wes' father right in front of Wes, Wes has put some distance between himself and Laurel because Laurel apparently reminds him of Frank, or so he says. It's also very possible that Wes has feelings for Laurel and the real reason he attempted to put space between them is because he's dating Meggy and doesn't want anything to get in the way of his new relationship. Either way Laurel and Wes seem to be mending their friendship now and the rekindling of their friendship could very easily lead to a relationship.
Still, if Wes and Laurel do hook-up it probably won't be for a while. Laurel's currently still dealing with her feelings for Frank and now that she knows where to find him Frank will definitely be her focus right now. As for Wes, he's actually pretty committed to Meggy and he probably won't cheat on her with Laurel, which means they'll have to break-up before he can be with Laurel. Even so, there's definitely a possibility for a romance between Laurel and Wes down the road and it'll be interesting to see if and when they finally get together.