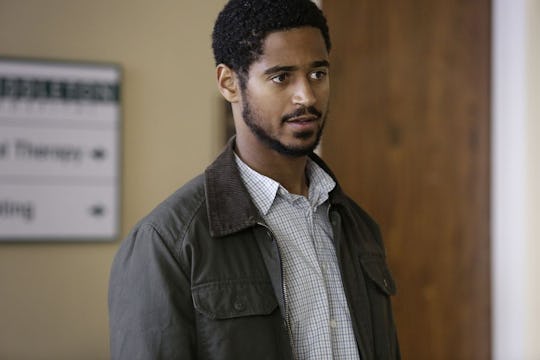 Nicole Wilder/ABC
Will Wes Return To 'How To Get Away With Murder'? Alfred Enoch Isn't Gone For Good Yet
The winter finale of How to Get Away with Murder left many fans heartbroken when it was revealed that Wes was under the sheet. While many are trying to piece together what exactly happened, others are just sad to see Alfred Enoch, who played Wes, leave the show. However, fans don't have to say goodbye just yet. Wes will return to How to Get Away with Murder for the second half of the season in the form of flashbacks. As Enoch told Jimmy Kimmel on Jimmy Kimmel Live! following the finale, Enoch will be sticking around until his killer is revealed because, although Wes was under the sheet, it wasn't the fire that killed him.
At the end of the winter finale, fans seemed pretty certain that it was Annalise's on again/off again boyfriend, Nate, that was under the sheet. However, at the very last moment it was revealed that Nate was actually visiting the coroner to see the body himself. When the coroner pulled back the sheet it was Wes' burned body that fans saw. Nate then asked if the coroner knew what the cause of the death was and then went to Annalise to let her know that Wes was already dead prior to the fire. So what exactly happened? Well, thankfully, Enoch is sticking around to help us figure that part out.
The winter finale did give us some clues about what may have led to Wes' murder. It was already revealed prior to the finale that Wes was the one who betrayed Annalise, but what the finale showed was he did this because the detectives told him they'd found Rebecca's body and Wes presumably assumed Annalise killed her, even though fans know it was actually Bonnie who did it. Prior to the fire, it was also revealed that Bonnie asked Frank to do something to save Annalise, but she wasn't very specific about what that was. Personally, I think she was asking Frank to burn down the house, but as was previously discovered, even if Frank did set the fire that doesn't necessarily mean he's the one that killed Wes since that wasn't the cause of death.
Before the house blew up, viewers saw Nate enter the house first and then Laurel. It wasn't shown at what point Wes showed up and whether or not Nate left before Laurel appeared, although one would assume he did since he's alive and fine. The second half of the season will probably focus on this missing time, explaining what exactly occurred between the time Wes left the police department to the point where his body was found in the burning house.
It's likely the show won't reveal Wes' killer until the season finale, which means fans still have a bit of time with Enoch until he's gone for good.