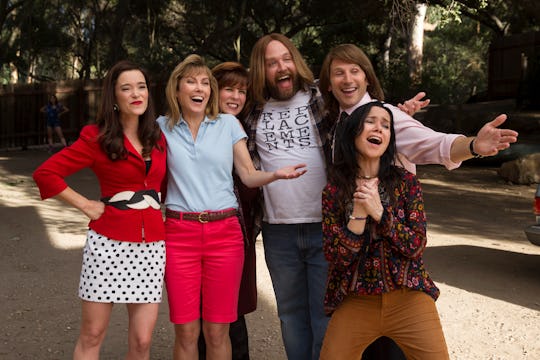 Saeed Adyani/Netflix
Fans Already Want 'Wet Hot American Summer: Ten Years Later' Season 2
It's time to go back to Camp Firewood... again. Following the success of the Wet Hot American Summer prequel series, First Day of Camp, Netflix is now taking fans back to camp, except this time they're jumping 10 years forward in time. The campers and counselors are returning for a 10 year reunion, just as they promised they would in the original film, along with an all star cast. So will Wet Hot American Summer: Ten Years Later Season 2 happen? It's definitely a possibility.
The series hasn't been renewed yet but that doesn't mean it won't be. Right now, it's just to early too call but based on the reviews the show is getting so far there's a good chance they'll be another season. Or, another Wet Hot American Summer reboot in a different way.
With Ten Years Later, the campers and counselors are thrust into the '90s, and while it's a decade later than the original, it still isn't taking place in the present. Perhaps the next reboot, if there is one, will finally see the counselors in the 2000s or even in the present day. It'd be interesting to see these actors actually playing characters that are their real ages and in the present.
However, one of the reasons fans love the series is because of the nostalgia. Could bringing Wet Hot American Summer to the present day ruin what makes it so good? Who knows? For now though, the jump from the '80s to the '90s seems to be working well, and it appears creators Micahel Showalter and David Wain can do no wrong.
In Ten Years Later, all your favorite characters return to Camp Firewood for the reunion of a lifetime in this eight episode limited series, just like the prequel series. The returners include Marguerite Moreau, Amy Poehler, Beth Dover, Chris Meloni, Chris Pine, David Hyde Pierce, David Wain, Elizabeth Banks, Kristen Wiig, Paul Rudd, and more.
Also joining the cast are Dax Shepard, Alyssa Milano, Marlo Thomas, Samm Levine, Mark Feuerstein, Joey Bragg, Jai Courtney, and Adam Scott.
While some campers and counselors have found success, based on the trailer it's clear others are struggling. Lindsay (Banks) seems to be killing it as a TV news reporter. Katie (Moreau) also seems to be doing well, though it's a little unclear what exactly her job entails. Differently, Jonas (Meloni) looks like he's struggling and living out of a trailer.
You can catch up on all your favorites when Wet Hot American Summer: Ten Years Later premieres on Netflix on Friday, August 4.