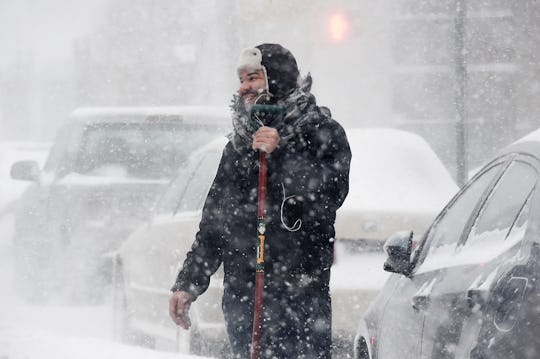 Nicholas Hunt/Getty Images News/Getty Images
Winter Storm Hunter Is Headed For Indiana & Much Of The Midwest
With winter just starting to show its gritty teeth, winter storms, blizzards, and the bitter cold are all taking reign as the dominant weather news story. And a mere week after that winter "bomb cyclone" hit the East Coast, another one of the cold's menaces is making its presence known over in the Midwest and other regions. And Winter Storm Hunter is expected to hit Indiana, though its path could certainly change. But, in the meantime, it definitely looks like it will be barreling towards the state with quite a vengeance.
The storm, which is causing numerous weather warnings, is set to hit Thursday and bring plenty of rain, wind, and snow through the weekend. According to The Weather Channel, "Winter Storm Hunter has already brought blizzard conditions to parts of the Plains and will spread its snowy, icy mess into a large swath of the Tennessee Valley, Ohio Valley and Northeast through Saturday."
And part of its path is directly over Indiana, as can be seen in the numerous weather maps of the storm. And it could all start as soon as Thursday night, according to The Weather Channel. So, how can Indiana residents prepare? And what cities will the storm hit the hardest? Well, the entire state will likely see the effects of Hunter, but it appears that Indianapolis will certainly be hit pretty hard.
Local ABC news affiliate RTV 6 reported that Indiana residents can expect to have to deal with a lot of side effects of Winter Storm Hunter, even if it isn't too drastic. According to RTV 6, residents will "notice a dramatic change to the way it feels across central Indiana by Friday morning." The outlet added:
This big temperature transition comes with a mix of rain, freezing rain, sleet and snow. It still appears the Friday morning drive will be slick for many of us.
Additionally, the Indianapolis metro area will be seeing a lot of possible snow and sleet, which means that anyone commuting to work Friday morning should be aware of the hazardous conditions. Hopefully, the storm will subside Friday night, but RTV 6 warned that even when it looks like the worst is over, not to be tricked.
"Blowing and drifting snow will be a big issue for us Saturday with highs only right around 20 degrees. Wind gusts could be in the 40 mph range," according to RTV 6. "If there is still any ice on the trees Saturday, we could run into problems when the wind kicks up. That is when branches could fall."
So really, Indiana is in for quite a doozy of a storm. But, not to fret. The Department of Homeland Security has several tips for how to stay warm and safe in the midst of any winter weather you might not be expecting. According the Department of Homeland Security, there are many ways you can prepare your family and your home for Winter Storm Hunter. Here are just a few tips:
Have an emergency kit in your home with batteries, flashlights, water, food, and other supplies in case of the worst
Communicate with your family about what to do in case you aren't together when something happens
Double check your house's insulation or invest in a space heater in case it gets too cold. If you use a space heater, though, make sure you have a working carbon monoxide detector on hand
Have plenty of blankets and firewood on hand
Besides Indiana, Winter Storm Hunter is expected to sweep over Minnesota, Illinois, Wisconsin, Michigan, Tennessee, Kentucky, New York, and Massachusetts. So, whether you're in Indiana or not, it might be better to be safe in case the storm does some unexpected turns and winds up hitting somewhere near you.
Check out Romper's new video series, Romper's Doula Diaries:
Watch full episodes of Romper's Doula Diaries on Facebook Watch.