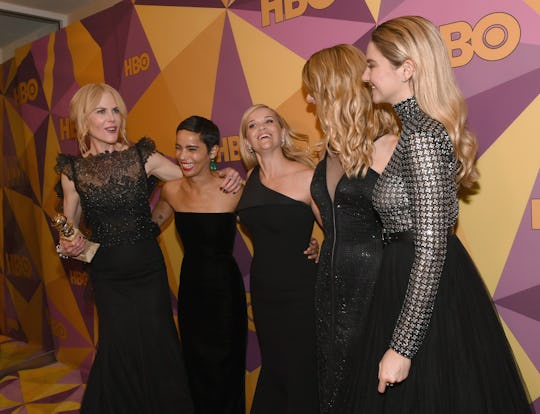 Emma McIntyre/Getty Images Entertainment/Getty Images
After The Golden Globes, Will Women Keep Wearing Black In Support Of #TIMESUP?
At the Golden Globes this year, dozens of powerful women and men in Hollywood (and beyond) wore all black to the 75th annual award show as symbolic sign of their support of the #TIMESUP movement and voice their opposition to sexual harassment and gender inequality in all industries. Now, though, after the red carpet at the Golden Globes was draped in black gowns and tuxes, making such a powerful statement, is it possible that women will wear black to every award show this year? For those who want to continue showing their support for the #TIMESUP movement, it seems plausible that they would keep donning the symbolic color.
The 2018 Golden Globes were kind of a big deal. There was the usual glitz and glam of Hollywood events, yes, but that's not all. Red carpet interviews focused on the abuse of power in the entertainment industry and beyond, and photo opportunities showed just how much support the #TIMESUP movement has. The initiative, launched on New Year's Day by nearly 300 notable Hollywood women and activists, seeks to tackle sexual assault in a pragmatic way.
Fortunately, most of the attention the movement has gotten so far has been positive, leading to more awareness and hopefully real change in the future. As The Atlantic reported, #TIMESUP is "an effort to counter systemic sexual harassment not just in the entertainment industry, but also in industries across the country. It is an effort, significantly, that aims to combat workplace sexism at its foundations: through legal recourse." While the movement already has widespread support, whether the symbolic gestures in honor of it will continue on upcoming red carpets remains up in the air.
The #TIMESUP movement is so huge that almost the entire audience at the Golden Globes looked like a sea of black. Of course, the red carpet was filled with celebrities talking about what an honor it was just to be nominated, and how happy they were to be there, so many women also discussed why they were wearing black, instead of who they were wearing. And their answers were all amazing. Michelle Williams, for example, stood proudly next to her date, Tarana Burke who created the #MeToo movement, and gave a poignant response when she was asked why she was wearing black at the Golden Globes. According to Harper's Bazaar, Williams said:
Really the most exciting thing is, I thought that I would have to raise my daughter to learn how to protect herself in a dangerous world and I think because of the work that Tarana [Burke, creator of #MeToo] has done and the work that I am learning how to do, we actually have the opportunity to hand our children a different world. So, I am moved beyond measure to be standing next to this woman. Tears in my eyes, smile on my face.
But now that the Golden Globes are over, fans and viewers everywhere may be wondering if the all-black ensembles will continue throughout the year at award shows.
After the Golden Globes, the Critic's Choice Awards were next up in honoring talent in Hollywood. It was an interesting change, because while it was attended by many of the same celebs as the Globes, not nearly as many people wore black to the show. However, those who did wear black were some of the #TIMESUP movement's most vocal and involved supporters, such as Reese Witherspoon, Emilia Clarke, and Margot Robbie. But even those who did wear black didn't get an opportunity to speak about their fashion choices, like they did at the Golden Globes.
But again, the Critic's Choice Awards weren't as political or poignant as the Golden Globes. So, will the wearing of black only decrease as time goes on? It's impossible to know until celebs walk the red carpets or make statements prior to that will give viewers an idea, like they did prior to the Golden Globes. But, Hollywood isn't the only industry that's seeing a reckoning right now. In Washington, D.C., House Democratic women also hope to come together and stand for equality by wearing the symbolic color to President Donald Trump's State of the Union later this month, according to USA Today.
With the Grammys, the Screen Actor's Guild Awards, and the Academy Awards all coming up soon, many will be looking out for who is (and who isn't) wearing black. While coming together as a sign of unity, as they did during the Golden Globes, got the #TIMESUP movement some much-needed attention, it still continues to grow and expand. Because, when it comes to sexual harassment and women and minorities facing unfair treatment at work, time is up
Check out Romper's new video series, Romper's Doula Diaries:
Watch full episodes of Romper's Doula Diaries on Facebook Watch.