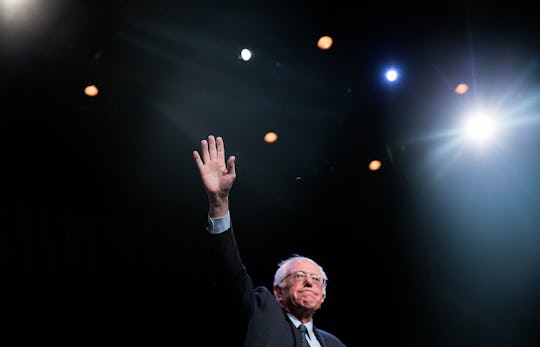 Eric Thayer/Getty Images News/Getty Images
Will Wyoming Actually Help Bernie Sanders? The Clinton Campaign Isn't Worried
Vermont Sen. Bernie Sanders has been on a roll lately, winning eight of the last nine states against former Secretary of State Hillary Clinton. In fact, he most recently clinched Wyoming by more than 10 percentage points (44 percent for Clinton to 55 percent for Sanders), which seems to suggest that Sanders is still absolutely a contender for the Democratic nomination. But will Wyoming actually help Bernie Sanders? Not really. Wyoming may have been a big win for Sanders percentage-wise, but the only thing that really matters is delegates. According to USA Today, Wyoming only had 14 delegates on offer, which is already not exactly great news. But what's even worse news for the Sanders camp? Those 14 delegates were actually split evenly once the polls closed — seven delegates for Sanders, and seven delegates for Clinton.
The Democratic Party's system of awarding delegates proportionally has continued to be a huge obstacle for Sanders. He's historically had a more difficult time winning in states that are rich in delegates, and even when he does win with pretty good margins, it's not winner-take-all and Clinton still adds delegates to her count as well. And, given that she's still got a good 249 delegates more than Sanders does, that means that, even with his winning streak, it'll still likely take a lot for Sanders to keep Clinton from becoming the Democratic nominee.
But despite the difficulty the Sanders camp is still facing, it's clear that he's not ready to be counted out just yet. His strong showing as of late specifically helps in two ways: it bolsters his fundraising capabilities, and it helps build momentum — which is something that is more important than many people often realize. And both aspects will prove to be very important as Sanders prepares to go up against Clinton in important, delegate-rich states like New York and Pennsylvania.
According to CNN, Sanders has "outraised Clinton $109 million to $75 million, over the last three months," and has famously done so with small-donor contributions. With yet another win under his belt, Sanders' ability to generate funding will only get stronger — and that will definitely come in handy on the East Coast. And the overall feeling of momentum — the sense that Sanders is performing well and is still a serious contender worthy of votes? That could swing a number of on-the-fence voters his way, which could make a big difference.
But the question, of course, is, will it be enough? The Clinton campaign says no, according to USA Today, noting that Sanders is still about 2.5 million votes behind Clinton, and that Clinton has a significantly higher number of superdelegates willing to stand behind her. In fact, according to the Los Angeles Times, in order to win, Sanders will not only have to win New York (which is expected to go to Clinton anyway), he'll also have to win Pennsylvania, California and New Jersey — and he'll probably have to do it with wider margins than he's been winning with. Considering that the states he has already won haven't necessarily been that politically significant for Democrats (despite his win in Wyoming, for example, the state as a whole is expected to be won by the GOP during the actual election), the chances of Sanders beating Clinton to become the Democratic nominee? A long shot, to say the least.
Of course, regardless of the outcome, Sanders has already proven himself to be a much stronger candidate than anyone initially expected — particularly as someone who hasn't been afraid to identify as a "democratic socialist." He has had much more success than Clinton at mobilizing the millennial vote, and his calls for a social revolution have uncovered the desire that many Americans have for significant changes in the way the country is run. According to the Los Angeles Times, Sanders has already said he would endorse Clinton if she lands the nomination, but it's clear that the movement that Sanders has helped create among Democrats is likely one that will continue to exist, even if Sanders does end up having to concede.