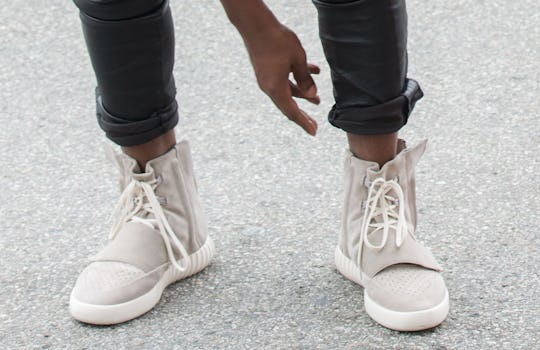 Valerie Macon/Getty Images Entertainment/Getty Images
Will Yeezy Debut A Kids Line? Kim Kardashian Just Dropped A Big Clue
If you have a fashion savvy kid, you might be in big trouble very soon. Kim Kardashian dropped a hint this week that Yeezy will debut a kids line, and it will likely be hitting shops soon. Since no one knows how far along in the conceptualization or design process they are you'd better start saving now.
North has long been a toddler fashion icon, but her little brother Saint is stepping up his game. Kim wrote in a bog post on her website this week that "Saint has so many amazing designer pieces already!!!" The lucky kid has been showered with gifts from his parents' designer friends too. "Many of them are inspired by his dad, so I think it's appropriate to share them with you guys during The Week in Kanye!" she wrote.
Already, Saint has a leather jacket from a boutique called Unravel, which is run, Kim writes, by the boyfriend of her makeup artist Joyce Bonelli. The jacket, to say the least, is one that I would seriously trample someone for. The designer made a matching one for Kim to rock, too. Saint has also been the recipient of a bomber jacket from Ralph Lauren and a gold chain that arrived before he was even born, "just like his Kanye's," the then expectant mother wrote. And then the real tease. Baby Ye's.
Of course, the baby Yeezy's were made and posted to Instagram long before Saint showed up, but it's interesting that Kim wrote a blog post about her youngest's fashion sense and then teased the post with a new caption of the tiny sneaks, writing, "Of course, Saint's closet isn't complete without tiny Yeezy 350s. Yeezy for kids is coming soon!"
So was that just an enthusiastic way to end the baby fashion post or a semi-real announcement that they're looking into a children's clothing line? When it comes to the Kardashian-West's — one never knows. Kanye's been floating the idea of a children's line since 2014. After North was born Kanye reportedly told Us Weekly that she was his fashion "muse." She has long been one of the best things about his fashion shows.
Maybe now that he has two muses, and with Kim dropping hints at a collection, it might actually happen. Until then, there's always knock off kids Yeezy boots that look just like the real thing for the same cost as a pair of youth Adidas — because even if Kim can't talk Kanye into making a whole baby Yeezy line just yet, there are always options to give your tot the Pablo look.