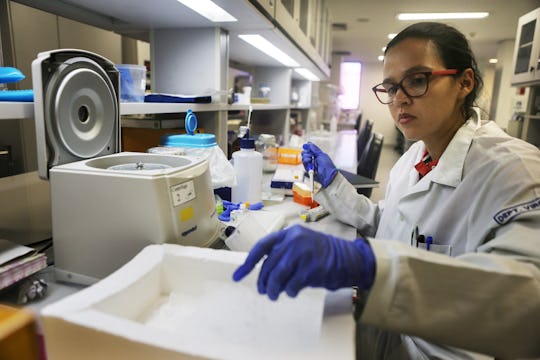 Mario Tama/Getty Images News/Getty Images
Will Zika Spread In New York? Mosquitoes Are Being Monitored
New York has now reported a total of 174 travel-associated Zika cases, making it the state with the highest amount of Zika cases in the continental United States. For any pregnant women in the state, that's a worrying amount — since Zika is a mosquito-transmitted virus, the more cases there are in close proximity, the higher the odds of local transmission. Many in the state are now wondering if Zika will spread through New York.
At the moment, New Yorkers can rest easy. So far, there haven't been any reported cases of locally-acquired Zika in New York, according to the Centers for Disease Control and Prevention, and no tested mosquitoes have been found with the virus in their systems. Another thing New York has going for it is its lack of Aedes aegypti mosquitoes (aka, Zika's primary vectors). In fact, a health commissioner for the New York City Department of Health and Mental Hygiene told Condé Nast Traveler in May that the mosquito hasn't been found in New York in 15 years.
On the less-bright side, this summer's hot weather could expand the Aedes aegypti's borders further north than usual, according to a PLOS Currents Outbreaks study published in March. Researchers expected that by June, most eastern cities' climate would be suitable for moderate-to-high numbers of Aedes aegypti, and that conditions would be even better (for the mosquito, that is) come July, August, and September.
Another worrisome sign for New York is its already-existing, more climate-resistant population of Aedes albopictus mosquitoes (also known as Asian tiger mosquitoes, thanks to their stripy black-and-white legs). This species can spread Zika virus, although researchers haven't detected Zika in their systems in New York so far. Aedes albopictus also tends to snack on humans less often than its Aedes aegypti cousin does, which is why it has remained a secondary vector when it comes to Zika. But, as The New York Times pointed out, if the Asian tiger mosquito were to become a more effective Zika transmitter, both New York and other states with colder climates could be in trouble.
Considering that New York is an international traveling hub, the state is likely to see more travel-associated Zika cases in the near future. Thanks to the presence of capable mosquitoes and increasingly hot weather, that travel-spiked increase in cases could lead to a more localized outbreak in the future. New York will continue monitoring mosquitoes in the area, but if you're at all worried about contracting the virus, spritzing on some repellent should help keep you safe while delivering some peace of mind.