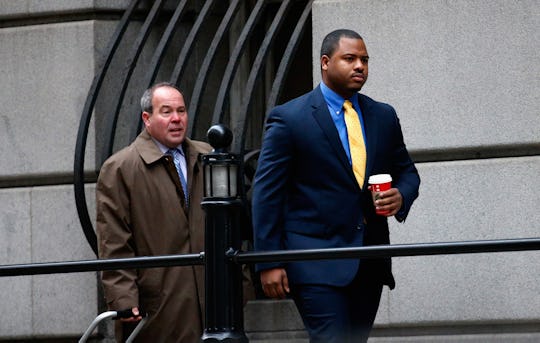 Rob Carr/Getty Images News/Getty Images
William Porter Will Testify In Trials Of Officers Involved In Freddie Gray's Death — REPORT
The Maryland Court of Appeals has ruled that Officer William Porter will testify in the trials of his fellow officers involved in the April death of Freddie Gray, The Baltimore Sun reported. Gray suffered a severed spine after being arrested and transported in a police van. He later died of complications from the injury.
Porter's appeal asked that he not be compelled to testify in the hearings of his fellow officers, Caesar Goodson, Sgt. Alicia White, Edward Nero, Garrett Miller, and Lrt. Brian Rice, on grounds that it would violate his Fifth Amendment protection against self incrimination. The Appeals Court overturned a lower court's ruling and said that, if he is granted immunity, his Fifth Amendment rights would be protected.
The timetable for the continuing trials of the officers involved isn't clear. Porter's attorneys Gary Proctor and Joseph Murtha have the option to appeal the ruling to the Supreme Court rather than go back to trial, but they aren't able to comment on their plans because of a gag order.
The officers involved in Gray's Baltimore arrest face charges ranging from misconduct to manslaughter and all have pleaded not guilty.
The ruling is welcome news to those concerned about escalating violence between police and b,lack Americans in cities across America, which has sparked the powerful Black Lives Matter movement in addition to other national protests. And young black men, like 25-year-old Freddie Gray are the most vulnerable to police violence. In fact, a report from ProPublica found young black males are a staggering 21 times more likely to be shot and killed by police than white men. That number doesn't even take into account accidental deaths in police custody like those of Sandra Bland, Eric Garner, and Freddie Gray.
Social media has become a powerful organizing tool and meeting space for movements like #BlackLivesMatter, and the news of the ruling that Porter must testify against his colleagues was important news for those who want officers held accountable.
But this tweet from Oolon Colluphid points out just how small of a victory this single Maryland Appeals Court ruling is in terms of the scope of the issue.
He's got a good point.
Let's hope Freddie Gray's family, community and the rest of us eventually get to the bottom of what happened and that maybe today's ruling is an important step toward justice for every American.