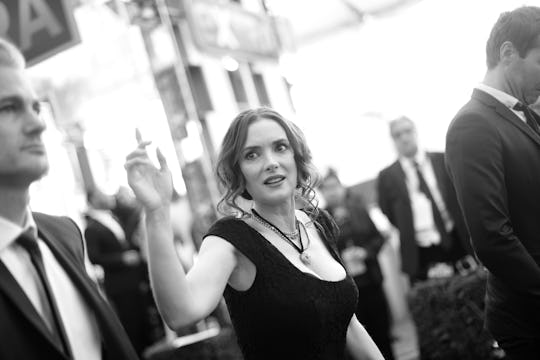 Charley Gallay/Getty Images Entertainment/Getty Images
Winona Ryder Memes You Need In Your Life
On an otherwise serious night, there was one thing that lightened the mood. Winona Ryder's face at the SAG Awards took a somewhat serious and politically-charged night and loosened it up. This is TNT and TBS, after all. So, when the cast Stranger Things won a SAG and Ryder took to the stage with her cast mates, who knew that we'd be left with some of the best Winona Ryder memes from the SAG Awards (and personally, the best memes, period, for 2017).
On Sunday, the majority of winners that took the stage had some choice words for the current political administration. Stranger Things' David Harbour took this as trend and really went with it. By the two hour mark, you'd think that all that was needed to be said had been said, right? Wrong. In a powerful, rather explosive, speech, Harbour vowed to fight the monsters. Here is an excerpt from the speech.
Now, as we act in the continuing narrative of Stranger Things , we 1983 Midwesterners will repel bullies. We will shelter freaks and outcasts, those who have no home. We will get past the lies. We will hunt monsters. And when we are at a loss amidst the hypocrisy and casual violence of certain individuals and institutions, we will, as per Chief Jim Hopper, punch some people in the face when they seek to destroy what we have envisioned for ourselves and the marginalized. And we will do it all with soul, with heart, and with joy.
Pretty moving, right?
Well, Ryder's face has sparked some pretty great memes (which I'd like to ask become emojis) for the following year and shall not be replaced until someone is able to perform a better emotional journey through facial expression. Here are some of the standouts.
Thank you, Winona, for these cherished stills, gifs, memes, and emojis (PLEASE). You are making this world better, one facial expression at a time.