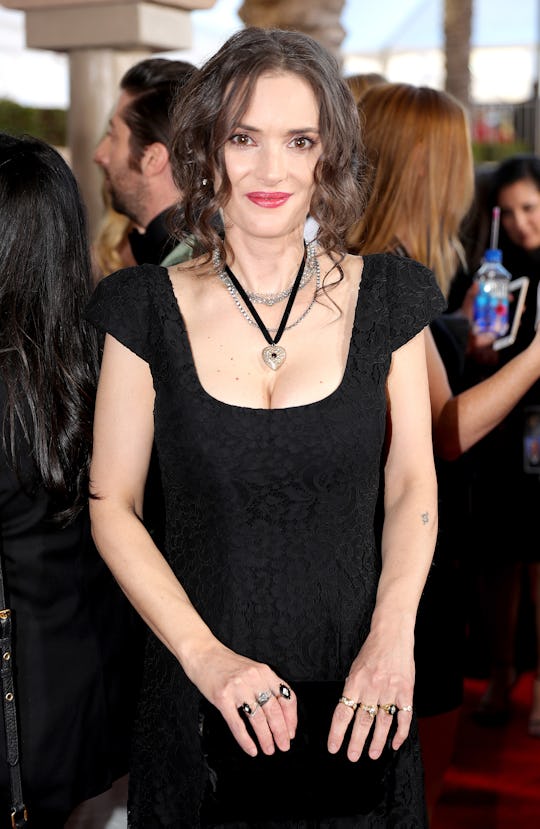 Neilson Barnard/Getty Images Entertainment/Getty Images
Winona Ryder's Face At SAGs Needs An Award, Stat
There were a lot of awards handed out on Sunday night at the SAG Awards. But there was one award that wasn't handed out and that was to Winona Ryder's face at the SAG Awards — because while Stranger Things might have taken to the stage, and while Hopper might have had A Moment, it was Ryder who was secretly and silently stealing the show.
The actress has had a very successful career in Hollywood. She has worn many different hats and played many different characters. But, perhaps her best role was that of Surprised / Confused / Happy / Lost / Empowered Winona that we saw take to the SAG Awards stage on Jan. 29. It is not clear if Ryder was just completely unaware of what direction David Harbour (Hopper in Stranger Things) was going to take the acceptance speech, or if she was the visual aide to how we've all been feeling for the past year — whatever the answer, it was very, very entertaining.
It goes without saying that a Stranger Things win was a true surprise for those watching the SAGs. Mostly because who knew that Harbour was going to win the empowering speech of the night, right? (OK, that actually goes to Taraji P. Henson, but second place ain't bad, Hops.)
Twitter, of course, is having some fun with Ryder's face. In one minute, the actor gave us some really wonderful, meme-able moments, and for that, I thank her. 2017 is already looking up.
Personally, I'll take a Season 2 of Stranger Things of just Ryder's face. It was wonderful, expressive, and deserves all of the awards one could give.