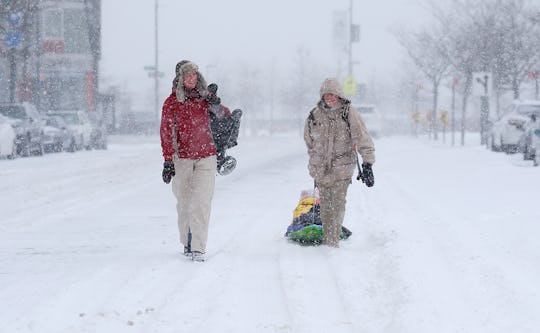 Dimitrios Kambouris/Getty Images News/Getty Images
Winter Storm Hunter Will Sweep Across The US — Here's What You Need To Know
Cold, cold, colder — the onslaught of winter weather is not ending any time soon. Immediately following the devastating winter storm that shook the East Coast, the plains states are set to get a storm of their own. Winter Storm Hunter's path is set to bring ice, snow, and wind to numerous regions across the United States. And these potentially blizzard-like conditions come with risks for the affected states.
What began as a powerful rainstorm in Southern California is heading eastward and bringing snow, flooding, and flash freezing for as many as 72 million Americans throughout the weekend, according to NBC News. The storm will start in the West and move across the country to the East. Early Thursday, snow fell from Kansas to Minnesota and turned to freezing rain later in the day.
Forecasters projected ice accumulations up to a tenth of an inch to a quarter of an inch from eastern St. Louis to parts of Illinois, Kentucky, Indiana, and Tennessee, according to NBC News. Blizzard conditions are expected in the Dakotas, Nebraska, parts of Iowa, and Minnesota. Winter Storm Hunter is currently projected to move into the Ohio Valley and New England, where ice could reach a quarter of an inch to a half inch, with snow piles between 6 and 12 inches, according to The Weather Channel.
Here's A Map Of Winter Storm Hunter's Potential Path
Here's What The Storm Could Bring Over The Weekend
The National Weather Service has issued winter storm watches, warnings, and winter weather advisories in areas throughout the upper Mississippi Valley, northern and central Plains, High Plains, and Rockies. Meteorologists predict that Hunter will be a two-part storm: beginning with an Arctic blast of snow and transitioning into a low pressure area that will bring snow, sleet, and freezing rain to the East, according to Fortune.
Along with ice and snow, flooding is also a concern. Twenty million people from Buffalo, New York to Boston, Massachusetts are under a flood watch as a separate storm brings warmer temperatures to the East, according to MSN. Meteorologist Heather Tesch explained to The Weather Channel that the combination of rain and melting snow could be dangerous:
We're real concerned about the potential flooding because already you got snow. You're going to see the snow melting. You add rain on top of that — you're going to find, too, we could see some ice jams coming in.
Here's A Map Of Where Weather Warnings & Watches Are In Place
Here's Another Look At The Conditions The Storm Is Bringing With It
Officials in Boston are already faced with cleanup from last week's winter storm that brought flooding to the city, and could see two to three more inches of flooding over the weekend. Those in the storm's path should be prepared for a range of weather. According to Accuweather:
The combination of surging temperatures, drenching rain and melting snow will accelerate a thaw that will already be underway from the Appalachians to the Atlantic coast.
Icy roads, "poor drainage area flooding," and other dangers are all possible. Even without snow, The Weather Channel warns that ice accumulations could slicken untreated roads, bridges, and overpasses. Additionally, "In some areas, enough ice may accumulate to lead to some downed tree limbs and weaker trees and trigger some power outages," according to the site.
It is worth noting that large storms like Winter Storm Hunter can change in trajectory. Anyone in or near the storm's path should be prepared in the event that the storm's aftermath affects their area. The Red Cross recommends that families have a survival kit for such storms, including items such as a gallon of water per person, non-parishable foods, a flashlight, a first aid kit, and other essential items.
Following the latest updates from The Weather Channel and the National Weather Service is the best way to know if your area will be affected by the storm.
Check out Romper's new video series, Romper's Doula Diaries:
Watch full episodes of Romper's Doula Diaries on Facebook Watch.