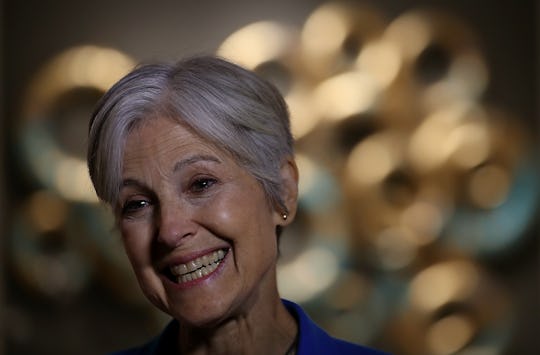 Justin Sullivan/Getty Images News/Getty Images
Wisconsin Grants Jill Stein's Presidential Election Recount On The Last Possible Day
"We deserve elections we can trust," Green Party candidate Jill Stein stated on Wednesday. This thought translated into action, specifically the action of fundraising for a recount in three key swing states. On Friday, Wisconsin granted Jill Stein's presidential election recount requests. Cost estimates will come next, followed by the actual recount, all of which must be completed by Dec. 13.
Reform Party USA's Rocky de la Fuente joined Stein in filing for a recount, as the Wisconsin Elections Commission acknowledged. Their filing comes just in time: This was the last eligible day to file for recount in Wisconsin. The recount will be done by hand, ensuring the status of Wisconsin's 10 electoral votes. In the presidential election, Donald Trump won Wisconsin by earning 27,257 more votes than Hillary Clinton. Stein herself earned 30,980 votes total.
Stein has raised over $5 million for her recount, collecting donations on the #Recount2016 page of her website. Whereas her initial goal was just $2.5 million, Stein now hopes to raise $7 million to "cover filing fees, attorney fees and other associated costs."
"This is a process, a first step to examine whether our electoral democracy is working," Wisconsin Green Party co-chairman George Martin announced. Stein's website claims that the "voting machines used in Wisconsin were banned in California after they were shown to be highly vulnerable to hacking and malicious programming due to lacking security features." Stein explains her stance further in a statement:
After a divisive and painful presidential race, reported hacks into voter and party databases and individual email accounts are causing many American to wonder if our election results are reliable. These concerns need to be investigated before the 2016 presidential election is certified. We deserve elections we can trust.
A statement released by the Wisconsin Elections Commission laid out details of the recount, including cost estimates and a short term timeline. Administrator Michael Haas provided a bit more insight into the actual protocol of Wisconsin's recount, saying:
State law clearly gives each county's Board of Canvassers the primary authority to conduct the recount, and to decide which ballots should and should not be counted. Recounting votes is an open, transparent process in which each of the candidates may have representatives present to raise objections, and where the public may be present to observe.
The Clinton campaign has not commented on the recount, though CNN reports that "hacking experts alerted the Clinton campaign earlier this week it was possible, based on voter low turnouts in some counties with electronic voting, that voting systems might have been hacked." Wisconsin votes won't be the main focus for long; As Stein's funds continue to pile up, her sights are set on eventual recounts in Pennsylvania and Michigan -- all limited by the same Dec. 13 deadline.