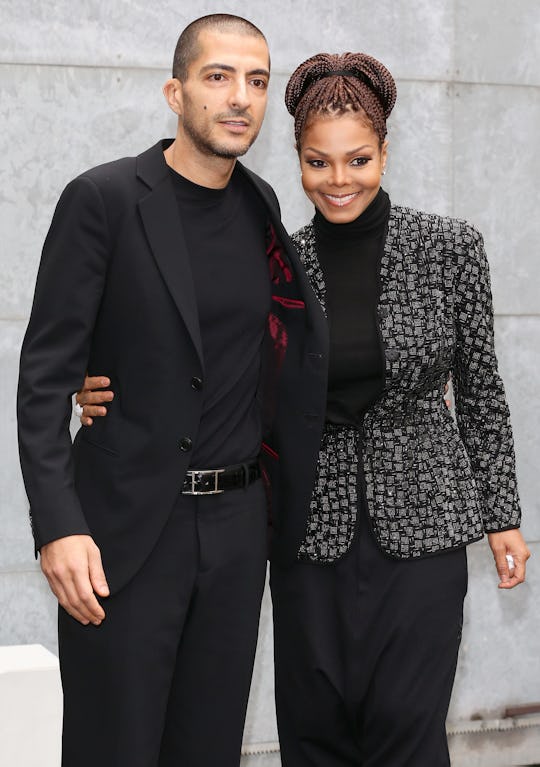 Vittorio Zunino Celotto/Getty Images Entertainment/Getty Images
Wissam Al Mana's Net Worth May Be Insanely High, But He's All About Family
At 50 years old, Janet Jackson is due to give birth in less than a month. The singer and actress quietly married her husband, Wissam Al Mana, in 2012. Before announcing their intentions to start a family, Al Mana has mostly stayed out of the public eye, but he isn't an ordinary man — he's actually incredibly wealthy. Wissam Al Mana's net worth is actually estimated to be $1 billion dollars.
Wissam Al Mana runs Al Mana Family Group with his two older brothers. The Al Mana Family industries range from real estate, automotive distribution, engineering and construction, retail, food services and media. He talked about running the business as a family in an interview with Entrepreneur:
Between my brothers and I there is a structure. We basically handle different responsibilities and different companies within the group. We all enjoy doing different things, we all like to put our hands in certain industries and activities. There's no rule that I can't do this because my brother is.
The Qatari businessman is the director of Al Mana's fashion investments, which includes Hermes and Sonia Rykiel, and he is a shareholder in the Saks Fifth Avenue stores in Dubai, Doha, Bahrain and Kuwait. He is also the owner of Al Mana Luxury Company, which represents A/X Armani Exchange.
Al Mana took over the family business to honor his father, who founded it. "My father passed away when I was quite young, and I felt that it was my duty to kind of pick up the flag and to continue the business, and try to continue the legacy and the family name," he told Entrepreneur.
Al Mana is very private, and he also has a strong sense of value and is religious. The company is launching a food division, but Al Mana won't team up with brands that serve pork or alcohol, according to Entrepreneur:
One of the cultural restraints I'm finding is that we don't want to work or deal with alcohol for cultural and religious reasons. So it's trying to find the concepts that will work without actually serving it.
Despite being part of one of the largest Middle Eastern businesses, Al Mana said he aspires to be like his father, who he described as "humble" to Harper's Bazaar Arabia:
My father was a very humble and down to earth man, and was known for being very honest and trustworthy. He taught us many great values such as to treat our employees with dignity and respect.
Al Mana's priorities also include helping others, according to his interview with Harper's Bazaar Arabia. "I would also like to get more involved in philanthropy and maybe take some time off everything to do just that," he said.
Because he places so much value on family, we're sure he's so excited to have a baby on the way that he dances with every time he hears, "Dammn Baby," which Jackson released shortly after announcing their plans to get pregnant. This will be Al Mana and Jackson's first child together.
Jackson reportedly wanted to give birth at home, but because of her age, the pregnancy is considered "high-risk," a source close to the star said. She has scheduled a C-section. Despite the risks, friends say that Jackson "is super excited about her pregnancy and is doing extremely well."
Jackson also recently opened up about her pregnancy, and she and Al Mana seem incredibly happy. "We thank God for our blessing," Jackson told People magazine.