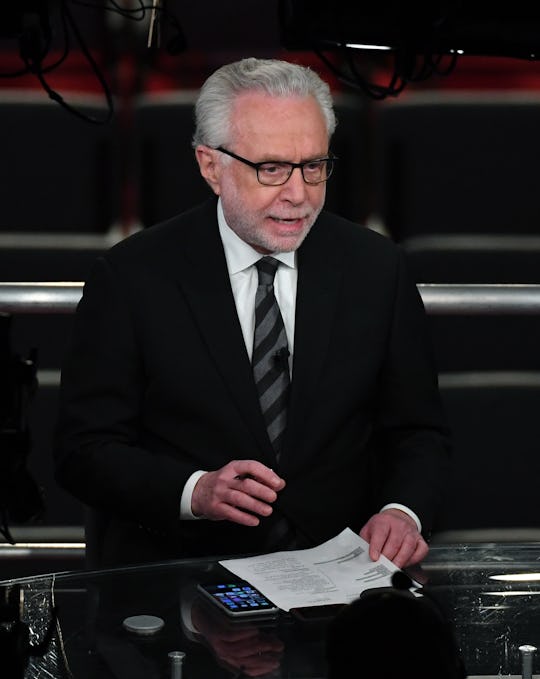 Ethan Miller/Getty Images News/Getty Images
Wolf Blitzer Called Trump "Drumpf" & The Internet Couldn't Handle The Slip Up
Not even an hour into the thick of election night and the pundits and hosts across various news networks are starting to get a little overwrought. CNN's team accidentally found themselves in the midst of the first meme of the night when Wolf Blitzer called Donald Trump "Drumpf" and the internet can't handle the slip up.
As per usual, Twitter was the first to catch the Blitzer's slip and the cascade of tweets that followed were a nice reprieve from the tension of election night. The Drumpf meme first started when Last Week Tonight's John Oliver did a segment on the show where he explained that the last name Trump was once "Drumpf," and urged him to reclaim the name: "Make Donald Drumpf Again." According to CNN, the clip got 85 million video views — a record for any HBO content.
After the segment aired and hit Youtube, "Donald Drumpf" became one of the hottest memes of the election season — and it's still going strong. There's even a Twitter account specifically dedicated to bringing this "alternate universe Donald Drumpf" to life. The best part? They've actually been tweeting since 2013. The parody account has over 59,000 followers — but Trump himself probably isn't one of them:
But Blitzer's on-air slip was a nice break in the tension that has infiltrated all the major news networks trying to cover the election, and gave Twitter something to focus on as early results began to roll in:
According to Snopes, who got to work after Oliver's segment aired in order to get to the bottom of the origin of Trump's name, said that it's basically true: the forefathers of the Trump empire were German, where the spelling was Drumpf. Trump's paternal grandfather, Fred, was German and became a naturalized U.S. citizen in 1896, according to Snopes. But the exact timeframe during which Fred started using Trump rather than Drumpf is up for debate. According to Snopes' research, it could have been when he emigrated, or before he came to America, or many years after he became a U.S. citizen.
What does "Drumpf" translate too, you ask? As it turns out — it doesn't have a meaning. Some things must have gotten lost in translation. The very similar Trumpf, however, translates to "trump card" — something rather befitting of Donald Trump, who has pulled out all the stops during his campaign.
One thing's for sure: regardless of how the election pans out, America is not likely to have a "President Drumpf" anytime soon.