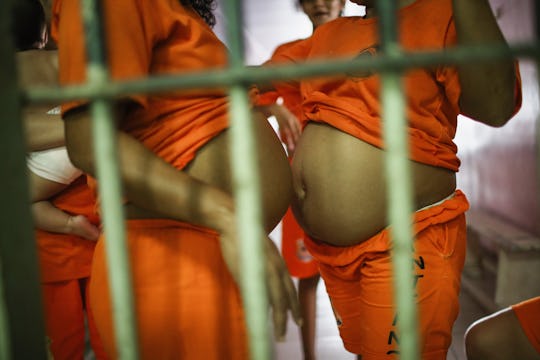 Mario Tama/Getty Images News/Getty Images
Pregnant Women Say Jail Officials Ignored Them
When Jennifer Jawson entered Milwaukee County Jail last December, she was a week away from giving birth, according to the Washington Post. She spent more than a week in jail, and during that time, Jawson alleges guards ignored her while she was pregnant. The story shows that women too often go without care they need if they're pregnant and serving some kind of a sentence. Even though women like Jawson committed a crime, the children they are carrying do not deserve to suffer for it.
According to the Washington Post, Jawson was arrested on a suspected probation violation and held in jail while the court figured out her case. Allegedly, the medical staff at the facility worked out a routine to monitor her and her baby's health. Everything seemed fine the day after she was booked, but "things went downhill from there," the Post reported. According to a claim filed by Jawson's lawyer, Jason Jankowski, medical staff refused to give the 35-year-old expectant mother her daily methadone treatments, and instead gave her Tylenol 3, which contains codeine, for her pain. Research so far has linked codeine to higher rates of birth defects, according to the U.S. Centers for Disease Control and Prevention.
The Post reported that "the pattern continued for more than a week — complaints, Tylenol 3, fetal monitoring — until Dec. 9." On that day, medical staff at the jail couldn't detect a fetal heartbeat. So she was sent to a hospital; doctors there couldn't find signs of the child's heartbeat either, according to the Washington Post. Jawson was induced a day later and "was forced to give birth to a dead baby, who was healthy and viable prior" to her being jailed, states her claim against the Milwaukee County Sheriff's Office.
Jawson's lawyer filed the claim on Friday, a precursor to an $8.5 million lawsuit. Romper reached out to Jawson's lawyer, the Milwaukee County Sheriff Office's and the Milwaukee County Jail, but has yet to receive any responses.
According to the Milwaukee-Wisconsin Journal Sentinel, this is the fifth notice of claim lodged against the sheriff's office in regard to medical services and inmate deaths. Four people, including a newborn, died in 2016 while in custody at the Milwaukee County Jail, the paper reported.
A Milwaukee County Jail spokesperson told the Washington Post that Sheriff David Clarke Jr., an ardent supporter of President Donald Trump, would release a statement Wednesday on Facebook so that the "lib media — the (propaganda) machine for the Democrat Party — cannot contort the truth. #MakeAmericaGreatAgain." Clarke, it should be noted, was one of Trump's potential picks to head the Department of Homeland Security, according to Salon.
Clarke hasn't posted a statement directly to his office's Facebook page. But he did appear recently on the conservative talk-radio program, The Dan O'Donnell Show, to lambaste coverage of the lawsuit. The sheriff denied the allegations and, taking a page out of Trump's book, told O'Donnell that the lawsuit is,
nothing more than a fake news jihad ... They know that they can sensationalize something to fabricate and get unsuspecting and non-critical thinkers to swallow anything that they put out.
Jawson's attorney also represents Shadé Swayzer, a former inmate who said her newborn died because of jail officials' negligence. According to Fusion, Swayer claimed that guards at the Milwaukee County Jail ignored her calls for medical attention while she went into labor behind bars. Medical professionals allegedly didn't tend to Swayzer and her baby until 6 a.m. — two hours after she had given birth that July morning. Her infant was pronounced dead later that day. The Sheriff's Office denied the allegations lodged in Swayzer's claim, countering that the infant was stillborn, Fusion reported. Swayzer said her child was "born alive, cried profusely and was breastfed."
The death of Swayzer's newborn followed three other deaths at the Milwaukee facility since April of last year. Most notably, in September, inmate Terrill Thomas was found dead inside his jail cell on April 24, 2016, according to Fox 6 Now. The Milwaukee County Medical Examiner's Office ruled Thomas' death a homicide, caused by dehydration with "other significant conditions." Lawyers for Thomas' family claimed that guards had cut off water to Thomas' cell, Fox 6 Now reported.
According to the Journal Sentinel, a court-ordered monitor of the Milwaukee County Jail found in November that three of the four deaths in 2016 followed mistakes in medical care and poor treatment of vulnerable inmates. (Romper reached out to Armor Correctional Health Services, which provides care at the facility, but has yet to receive a response.) The string of deaths led Milwaukee Democrats to propose the "Jail Death Transparency Act," a bill that would require inmate deaths in state county jails to be investigated in the same way as officer-involved shooting fatalities, according to Wisconsin Radio Network.
The embattled Milwaukee County Jail is also facing a federal lawsuit over allegations that it refused to unshackle more than three dozen female inmates while they gave birth, according to the Associated Press. The lawsuit, which seeks class-action status, was filed last month.