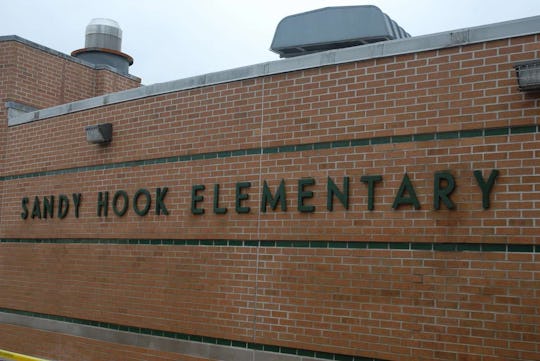 Handout/Getty Images News/Getty Images
Sandy Hook Conspiracy Theorist Will Serve 5 Months In Jail
Five years ago, 20 young children and six adults were killed during a shooting at Sandy Hook Elementary in Newtown, Connecticut. Just because time has passed does not make it any easier for those still suffering from the loss. No one have to should have to relive that day or the grief they felt in the aftermath, yet there are still some out there making life difficult for all those struggling to heal. On Wednesday, at least one of those individuals was finally forced to suffer the consequences of their deplorable actions after it was announced that a woman who threatened a Sandy Hook victim's parents had been sentenced to five months in jail.
The woman, 57-year-old Lucy Richardson, pleaded guilty to leaving threatening voice and email messages for Lenny Pozner, the father of 6-year-old Noah Pozner, who died in the Sandy Hook shooting on December 14, 2012. On Wednesday, Richardson was sentenced to five months in prison for those threats and will not be able to access a list of conspiracy theory websites during her three years of supervised release, once she is allowed to leave prison. Richardson was a conspiracy theorist who believed the shooting was a hoax. Unfortunately, conspiracies, especially those surrounding the Sandy Hook shooting, are not uncommon and persist to this day.
People like Richardson are quick to deny that the Sandy Hook shooting ever happened, according to The Los Angeles Times, due to the rising popularity of the theory that the shooting was a conspiracy "set up by Democrats" to push for stricter gun laws in the United States. This theory was reportedly popularized by the website Infowars, according to NBC News.
Pozner, according to New York Magazine, used to believe in conspiracy theories until he found himself in the center of one. Since losing his son, Pozner started the HONR Network, which works to combat conspiracy theorists on mass shootings by flagging conspiracy content, so families can heal in peace.
This week, Pozner told Reuters that he was "satisfied" with Richardson's sentencing, as it had raised awareness about conspirators in general:
I'm satisfied with the sentencing, because for me it's about raising awareness to this growing problem of alternative facts, and people who are easily influenced by those facts, and then, take it upon themselves to think they are the part of some army of good.
The parents and families of Sandy Hook victims don't need to relive the pain of that tragic day. They need space to heal, without the threats and harassment from others who continue to deny that the heartbreaking shooting that took their loved ones never happened.