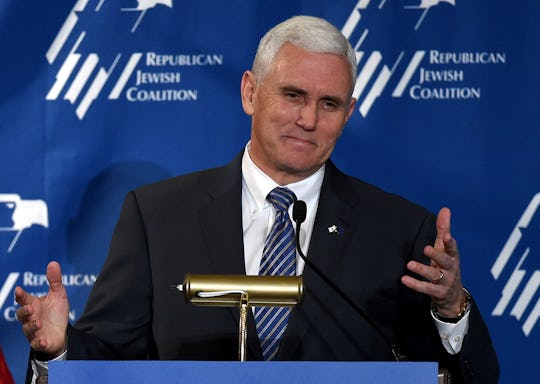 Ethan Miller/Getty Images News/Getty Images
Women Are Calling Mike Pence To Describe Their Periods For This Reason
Governor Mike Pence is getting an earful from his female constituency. Indiana women have begun trolling the state's Republican leader with a little TMI ever since he signed a controversial anti-abortion bill into law on March 24. Just this week, several women began calling Pence's office to describe their periods in detail, in protest of the HEA 1337 bill banning women from seeking abortions based on a fetus's race, sex, or diagnosis of disability like Down syndrome.
Last week a Facebook page called "Periods for Pence" was created with a description reading, "Let Governor Mike Pence know what you think about his intrusive HEA 1337 bill. Women should have the right to make their own medical decisions!" The group has already attracted 26,000 followers, and a "Periods for Pence" Twitter page was added later. Hoosier women hope that by sharing the graphic details of their lady business they can underscore/emphasize their belief that a woman can do whatever she wants with her body without government interference.
In an interview with Indianapolis's WRTV, the page creator, who wishes to remain anonymous, said the group is a platform for women "who really didn't feel like they were given any kind of input into a bill that would affect our life so much."
Pence has called bill HEA 1337 a "comprehensive pro-life measure that affirms the value of human life," but critics have said the law is overly-restrictive, unsafe, and unenforceable. The National Network of Abortion Funds called it "one of the most vicious omnibus anti-abortion bills the United States has ever seen."
An early post on "Periods for Pence" humorously suggests that by contacting Pence to report menstrual cycles, the Republican will learn to govern accordingly. The post says:
Fertilized eggs can be expelled during a woman's period without a woman even knowing that she might have had the potential blastocyst in her. Therefore, any period could potentially be a miscarriage without knowledge. I would certainly hate for any of my fellow Hoosier women to be at risk of penalty if they do not "properly dispose" of this or report it. Just to cover our bases, perhaps we should make sure to contact Gov. Pence's office to report our periods. We wouldn't want him thinking that THOUSANDS OF HOOSIER WOMEN A DAY are trying to hide anything, would we? [...] You should really let him know, since he's so concerned.
(The above refers to the measure's stipulation "that a miscarried or aborted fetus must be interred or cremated.")
And boy, did the female citizens of the Hoosier State come through. Phone calls have been flooding Gov. Pence and bill author Republican State Rep. Casey Cox's offices from women eager to report their PMS symptoms, seek gynecological advice, and otherwise keep the politicians updated on everything related to a woman's downstairs situation.
Here are some of the most hilarious exchanges posted on "Periods for Pence" Facebook and Twitter pages:
Since signing the law, Gov. Pence has been receiving backlash from women and medical professionals, many of whom say the law is dangerous for women. In a statement to the Chicago Tribune, Indianapolis gynecologist Brownsyne Tucker-Edmonds said the law could force a woman "to potentially assume the greater health risks associated with [prolonging pregnancy]." She continued, asserting some women have "cases in which the risk of death during a full-term pregnancy is more than 14 times higher than for a termination of pregnancy." Some medical experts worry that the law could discourage women from being honest with their doctors, as well.
Between women live-tweeting their period to Donald Trump using the hashtag #periodsarenotaninsult and these heroic phone calls to Indiana Gov. Mike Pence, period trolling is having a big moment in 2016.