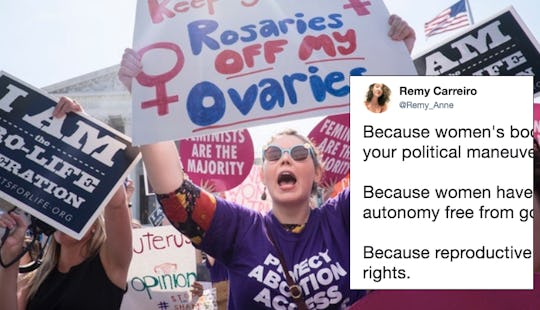 Pete Marovich/Getty Images News/Getty Images
Women Are Sharing Why They're Pro-Choice On The 45th Anniversary Of Roe​ V. Wade
Forty five years ago, life changed drastically for women across the country, when the Supreme Court's famous Roe v. Wade decision legalized abortion. Now, on the historic day's anniversary, women are sharing why they're pro-choice, both to mark this important day, and because the fight for women's reproductive rights is, unfortunately, far from over. Reading through the testimonies of women whose lives have been bettered and saved through the power of choice serves as an important reminder that America must not go back to the days of limited access and back alley abortions.
In the years since abortion became legal, many women have seen vast improvements in their health and their access to opportunity. Still, that hasn't stopped opponents of abortion from doing their absolute best to restrict access to the procedure, closing down many abortion clinics and proposing numerous laws to limit women's access. Now, those who wish to see Roe v. Wade "consigned to the ash heap of history" have some powerful allies in the White House and on the Supreme Court, as then-vice presidential nominee Mike Pence once said, according to the Los Angeles Times.
All of that means that it's absolutely crucial for supporters of choice to raise their voices as much as possible. NARAL Pro-Choice America started off a tweet-storm of support, citing a recent poll from Pew Research Center that found that about seven in every 10 Americans oppose completely overturning Roe v. Wade. NARAL tweeted:
Today is the 45th anniversary of #RoevWade! Share why you stand with the 70% of Americans who support abortion access with #7in10forRoe.
Immediately, women began answering the call:
Some supporters pointed out that, before the procedure was legal, many women still attempted to obtain abortions anyway, often in extremely dangerous ways. According to Planned Parenthood, citing the National Center for Health Statistics, back in 1965, "17 percent of all deaths due to pregnancy and childbirth were the result of illegal abortion." Now, numerous studies, including a comprehensive 2014 study from the University of California San Francisco, have found the rate of complications from legal abortions to be a mere fraction of a percent.
Others on Twitter shared more personal stories and mentioned their own experience with the procedure, recognizing how important it can be for those who have had positive experiences with abortion to be open about it. Many women, understandably, tend to keep their own abortions secret due to the public stigma and the possibility of being targeted. That's absolutely a decision that's right for many people and their own personal safety, but it does mean that the anti-abortion side of the debate can seem louder than it actually may be. Kudos to the brave women who are working to reduce the stigma by adding their own personal experiences to the conversation, despite the venom that may come their way.
And some male allies got in on the #7in10forRoe action too, recognizing that hey, maybe women should be the ones who get to make the choices about their own bodies:
Senator Elizabeth Warren penned a column for TIME to mark the anniversary of Roe v. Wade, reflecting upon all that has changed since the landmark Supreme Court decision allowed women the freedom to make their own decisions about their futures. Warren noted that abortion allowed many women greater economic security, by not forcing them to have children before they were financially ready for the cost. She concluded by writing:
When making policy about women's bodies, government officials should trust the women whose lives and futures are on the line. Safety and economic security — that's what Roe v. Wade is still all about. I lived in a world of back alley butchers and wrecked lives. We're not going back — not now, not ever.
The work isn't done. Raise your voices and show your support for women's right on the anniversary, and on every other day.