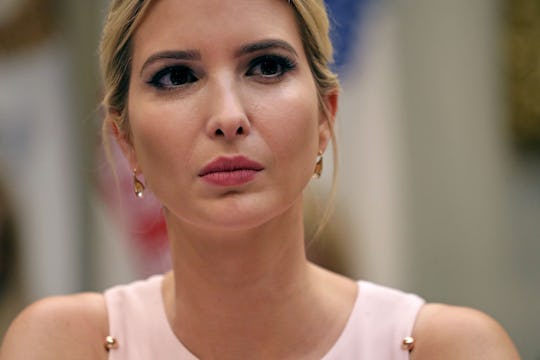 Chip Somodevilla/Getty Images News/Getty Images
Women Are Spending $50K On This Plastic Surgery Trend, & The Reason Is Troubling
As a senior advisor to President Donald Trump — and, indeed, the highest ranking female staffer in the West Wing — first daughter Ivanka Trump wields considerable political power. In a profile published late last spring, The New York Times reported that Ivanka was expected to have the president's ear on a number of subjects related to gender inequality and family economics. But whether or not she has helped to move those issues forward in the new administration, her influence is starting to show in other, less expected ways. According to various recent reports, there's been an uptick in women getting surgery to look like Ivanka. And while that might be predictable given America's obsession with plastic surgery, this new trend is suggesting something much more problematic within our culture.
What is the Ivanka's "look," exactly? In a recent interview with Page Six, Manhattan plastic surgeon Norman Rowe said that "widened cheekbones, a slender nose, and large eyes" were among the features his patients are starting to request more frequently. As Rowe told the tabloid, since last summer as many as 50 New York women have come to him hoping to look more like the eldest Trump daughter.
As one might imagine, achieving those features through surgery and other methods can get expensive. According to Rowe, patients looking to use temporary procedures (such as facial fillers and Botox injections) can expect to pay anywhere from $30,000 to $40,000 to look like the entrepreneur-turned-politician. But a more permanent look — achieved through rhinoplasty and cheek implants — can easily cost upwards of $50,000, according to Page Six.
Speaking to Page Six about the uptick in plastic surgery requests, Rowe had this to say:
I never saw [anyone drawing inspiration from Ivanka's face] before the primary. Since the summer of '16 . . . [it's been] maybe four a month; one a week.
Considering New York's deeply liberal political leanings, the rise in Ivanka fans might seem surprising. (According to a report from The Washington Times, President Trump switched parties several times before returning to the Republican party in 2012.)
But Rowe said that he doesn't believe politics has played a role "in the least" for his patients. According to his interview with Page Six:
I think it has to do with somebody who you respect the way they look, and I don't think it's anything to do with whether you're blue or red ... Maybe they just like the look, but also that [Ivanka's] a powerful woman, self-confident, part of the first family. Do they want to be her? Yes, deep down, maybe.
But it's the implied willingness to use Trump's facial features as a proxy for her power and influence that's so troubling. Consider that as an official advisor to the president, Trump's policy sphere is reported to include several issues with the potential to change the futures of millions of families — and working mothers in particular.
According to The New York Times, Ivanka has been positioned as a champion on legislation to support paid family leave and child care. So far, this family-focused legislative agenda has stalled in Congress, according to a Real Clear Politics report. And coincidentally, patients have reportedly begun requesting her "look" more often than other celebrities like Kylie Jenner, according to AOL.com.
Certainly, people have the right to undergo plastic surgery to achieve whatever aesthetic they so choose (and that includes Ivanka). But reducing Trump's potential to simply focusing on her facial features suggests that all a woman in her position has to do to be influential is to adhere to a certain — incredibly narrow and racially charged — beauty ideal. And that suggestion is about as anti-feminist as it gets.
Watch Romper's new video series, Romper's Doula Diaries:
Check out the entire Romper's Doula Diaries series and other videos on Facebook and the Bustle app across Apple TV, Roku, and Amazon Fire TV.