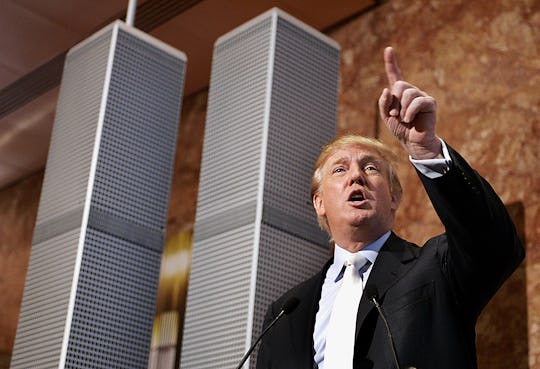 TIMOTHY A. CLARY/AFP/Getty Images
Women Protest At Trump's Polling Station, & Get Arrested For Being Topless
Just a couple of hours in, and Election Day is off to quite an eventful start. Two topless women were arrested for protesting Donald Trump at P.S. 59, the polling station where the Republican candidate plans to vote, according to the New York Daily News. While it is technically legal for women to be topless in New York, protesting or "electioneering" is prohibited within 100 feet of the polls in the state, and the women were quickly removed from the area. It's hard to make out, but the protesters seemed to be chanting, "Trump, grab your balls" (the phrase was also painted on one woman's chest), an apparent reference to the now-infamous leaked audio of Trump bragging to former Access Hollywood host Billy Bush about the ease with which he's able to grab women "by the p*ssy."
Trump was not present at the time of the protest, but according to People magazine writer Sharon Clott Kanter, security has been increased in anticipation of his arrival, and the Secret Service is also on hand, which led to the protest being shut down in less than a minute. Trump appeared via phone on Fox & Friends Tuesday morning, according to Politico, and announced that he would be voting for himself.
This is hardly the first Trump protest, and it likely won't be the last. According to Michigan's MLive Media, protesters appeared at a Trump rally on Monday night in Grand Rapids, hoping to sway public opinion in the last hours before the election. "I don't think a racist should be president of the United States," one protester told the outlet. Some reported feeling unsafe and even being spit on outside the rally, and one protester who had also attended an earlier rally for former Secretary of State Hillary Clinton said that Trump's rally was "less peaceful and less respectful," and characterized his supporters as "intense."
P.S. 59 isn't the only New York polling place getting significant attention on Tuesday; the Guardian has reported that an apartment building in Manhattan developed by Trump, bearing the name Trump Place, is an official polling station, a fact that irks some voters in the area who oppose the candidate. Ironically, most of the voters in the Upper West Side neighborhood are expected to vote against the man whose name appears on the building. Deep breaths, everyone, our collective nightmare is nearly over. Stay safe at the polls, and for good measure, let's all keep our clothing on. It is November, after all.