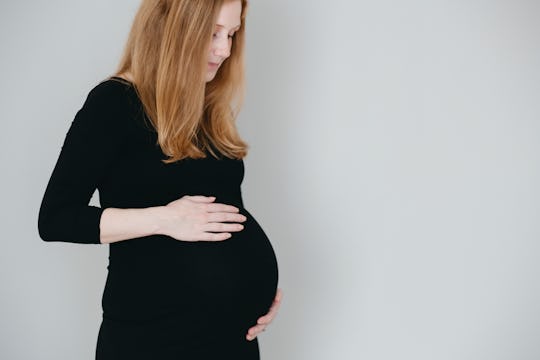 Johner Images/Johner Images Royalty-Free/Getty Images
Women With Preeclampsia Have A Higher Risk Of Stroke
While gestational diabetes, obesity, and urinary tract infections are known factors that can increase an expectant mother's chances of having a stroke, a new study has found that women with preeclampsia have a higher risk of stroke during and after pregnancy as well. As preeclampsia is a dangerous pregnancy condition that's characterized by high blood pressure and an excess protein in your urine, researchers suggest that there are several factors that raise the risk of pregnancy-related stroke linked to the disorder.
"Preeclampsia is a very complex disorder that's not completely understood. Our study sought to discover if there are ... clues that may help identify the women with preeclampsia who are at the highest risk for pregnancy-related stroke," lead author Dr. Eliza Miller, a vascular neurology fellow at New York-Presbyterian Hospital/Columbia University Medical Center, told HealthDay News.
According to the study published in the medical journal Stroke, researchers looked at nearly 89,000 women in New York state who developed preeclampsia between 2003 and 2012 ― 197 of whom had a pregnancy-related stroke.
The researchers concluded that women who had a pregnancy-related stroke were seven times more likely to have severe preeclampsia or eclampsia — which is essentially preeclampsia with seizures — according to the study. They also found that women who had a pregnancy-related stroke were three times more likely to arrive at the hospital with infections, a history of high blood pressure before developing preeclampsia, or blood clotting disorders, according to U.S. News & World Report.
As the researchers noted that pregnancy-associated stroke is rare ― occurring in about 34.2 per 100,000 deliveries, according to MedPage Today ― there is a correlation. But it's difficult to predict which preeclampsia patients are at the highest risk.
"Preeclampsia is a very common disorder, and a lot of people are not aware of its association with stroke," Miller told MedPage Today. "Women with preeclampsia should take any neurological symptoms, such as severe headache, very seriously, especially during the postpartum period. This needs to be a major focus of future stroke research in women."
Other symptoms of preeclampsia include changes in vision, upper abdominal pain, nausea or vomiting, shortness of breath, and sudden weight gain and swelling — particularly in your face and hands — according to the Mayo Clinic.
Miller told HealthDay News that women who develop preeclampsia "should be alert" of symptoms and warning signs of stroke, even after the baby is born. For example, you should seek medical attention immediately if you have sudden numbness or weakness of the face, arm or leg — especially on one side of the body — or sudden confusion, trouble speaking, seeing, or understanding.
Preeclampsia and pregnancy-related strokes are serious and can have dangerous consequences for both mom and baby. While the researchers noted that more research needs to be done to find the true link between the two health conditions, it's important that expectant mothers are aware of the risks and warning signs so they can seek medical attention before it's too late.