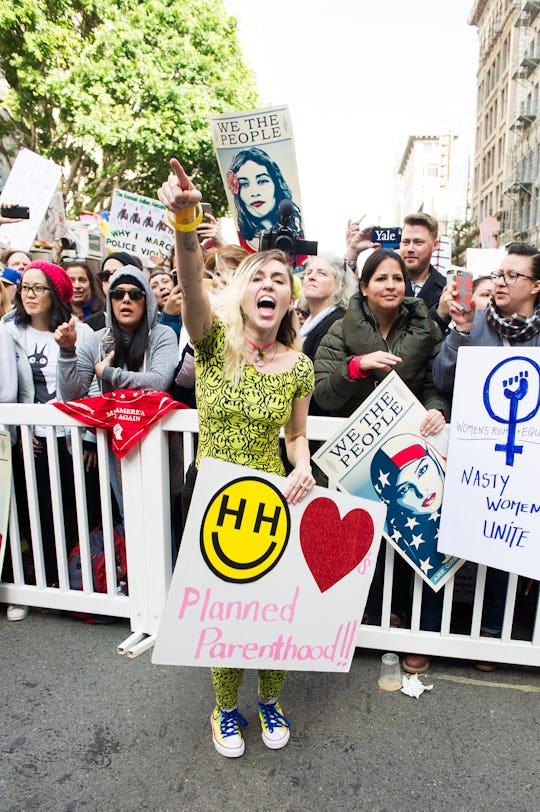 Emma McIntyre/Getty Images Entertainment/Getty Images
Here's A List Of The 2018 Women's March Locations
The 2017 Women's March in Washington, D.C., was an inspiration to women and young girls around the world. It brought together thousands of women in solidarity and inspired other marches around the world. The movement continues this year, and the many Women's March 2018 locations across the globe show that the people and those who stand with them aren't slowing down any time soon.
The Women's March Alliance website reported 673 "Sister Marches," or marches inspired by the original Women's March on Washington, that took place last year, including almost five million marchers. For 2018, more than 200 Women's March events have been planned for Saturday, Jan. 20, along with a few on Sunday, Jan. 21, according to The Cut. The Women's March Alliance lists all of the events on its Facebook page, with protests as widespread as New Zealand and Vancouver. There will also be protests in most major U.S. cities, including, but not limited to:
Nashville, Tennessee
Raleigh, North Carolina
Columbus, Ohio
Annapolis, Maryland
Green Bay, Wisconsin
Dallas, Texas
Roanoke, Virginia
Santa Ana, California
Denver, Colorado
Atlanta, Georgia
Cheyenne, Wyoming
To see the full list of cities hosting 2018 march events, click here.
Interested parties are encouraged to attend a protest in a nearby area or even to plan one of their own. While each march plays its own part in spreading the message of equality and respect for women and other marginalized communities, some marches will be larger than others and you may be interested in attending a major march in one of the bigger cities. Here are a few in the U.S. that may interest you.
New York City
Roughly 400,000 people attended last year's New York City Women's March, according to DNA Info, and another large scale march is planned for the Big Apple on Jan. 20 in Manhattan. It will last from 11 a.m. to 3 p.m. ET and begin at 72nd Street and Central Park West, with marches heading from Columbus Circle to Midtown. There will be an 11:30 a.m. rally between 61st and 62nd Streets and the march will begin at 12:30 p.m.
Registration for the march isn't necessary, but it is encouraged so that organizers can give the NYPD an estimated number of participants.
Las Vegas
Women's March organizer chose Nevada as this year's location for the launching of the 2018 initiative: the #PowerToThePolls event. This state was chosen to commemorate the one-year anniversary of the first Women's March because it is a swing-state that could have a huge impact on the Senate in 2018. Also, it was chosen because it has "recent experience with some of the most pressing issues facing women in our nation today, from gun violence to politicians accused of sexual assault," according to the official website.
The event in Las Vegas will be held on Jan. 21 from 10 a.m. to 4 p.m. PT and will begin a national voter registration and mobilization tour. The tour will target Nevada and other swing-states with the goals of registering new voters, engaging communities, and advocating for policies and candidates that have women's best interests in mind.
Los Angeles
Last year's Women's March in Los Angeles was one of the largest in the country, according to ABC News, drawing thousands of protesters to the city. The LAPD reported well over 100,000 people and event organizers had a count of closer to 750,000.
The Women's March LA Foundation has planned an event for Jan. 20 that will include music, art, community booths, and speakers — all coming together to bring awareness to the Women's March Unity Principles of ending violence, protection of reproductive rights, LGBTQIA rights, workers' rights, civil rights, disability rights, immigrant rights, Indigenous people's rights, and environmental justice. Here, too, issues of voters' rights and accessibility will be addressed. The march route, map, and lineup of speakers have yet to be announced at the time of this publication.
Regardless of whether you choose to attend a major protest or a smaller one closer to your home, any involvement is a step in the right direction towards equality. Everyone has an important role to play in bettering the world for future generations.
Check out Romper's new video series, Romper's Doula Diaries:
Watch full episodes of Romper's Doula Diaries on Facebook Watch.