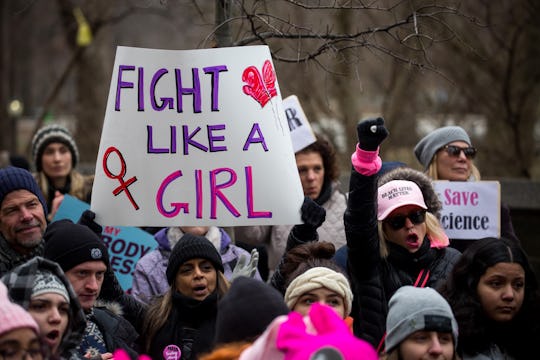 Xinhua News Agency/Xinhua News Agency/Getty Images
Another Women's March Is Happening This Weekend & Here's Everything You Need To Know
It's been more than three years since the first Women's March broke records as the largest single protest in US history. On Jan. 21, 2017, millions of people in cities and towns around the world came together in a show of solidarity for women's rights and in rebuke of the election of President Donald Trump. The organization has continued to host a march every January. This year, a second Women's March will be held on Oct. 17 to protest the Trump administration in general and its commitment to fill Ruth Bader Ginsberg's vacant seat on the Supreme Court before the election.
The event was announced shortly after the Women's March held a candlelight vigil for Ginsberg on Sept. 19, the day after she died due to complications from pancreatic cancer. "We will march in force on October 17 to send a clear message that we will not allow Trump and the GOP to endanger our lives any longer. This is what we've been preparing for, this is why millions of feminists marched on January 21, 2017," the organization announced in a post on Instagram.
While best known for its annual rallies and marches, Women's March is active year round. Its mission is, in part, "[to provide] intersectional education on a diverse range of issues and creating entry points for new grassroots activists and organizers to engage in their local communities through trainings, outreach programs and events." This is the first time the organization has held two marches in one year, and here's what you need to know about the upcoming event.