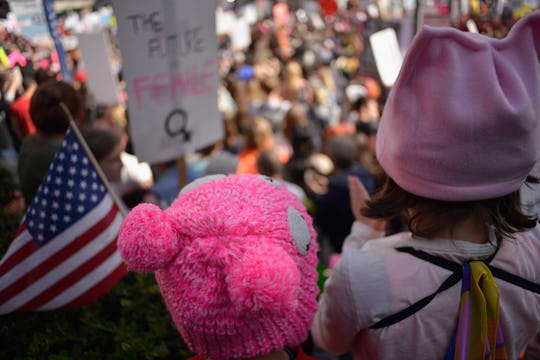 Chelsea Guglielmino/Getty Images Entertainment/Getty Images
Participate In The Women's March? You Just Won An Award
Women, there will always be a time and reason to fight. There will always be a need to stand strong, to resist. And, eventually, after all of that there will be a time to rest and celebrate. For those who participated in the Women's March on Washington, the time for celebration is now. Of course, the fight for equality and justice continues, but millions of women are now being recognized for their efforts in January, all across the world. Yes: Women's March participants just won a Freedom of Expression of Courage Award — and if you marched, that includes you.
According to the Associated Press, PEN America is honoring all attendees of the Women's March, as well as its organizers. The 2017 PEN/Toni and James C. Goodale Freedom of Expression Courage Award will be presented to Bob Bland at the annual PEN Literary Gala on April 25 at the American Museum of Natural History in New York, though the award is also dedicated to the millions of women who attended marches across the United States. Bland, one of the march's co-chairs, was responsible for taking the idea of storming Washington, D.C. after the election of Donald Trump, and turning it into a multi-faceted effort. So while Trump may be in the White House, the women dedicated to holding him accountable are being recognized, and what's more, awarded for their willingness to fight back.
Suzanne Nossel, executive director of PEN America, explained the organization's choice in selecting the Women's March to be the recipient of such a prestigious award, stating that the Women's March organizers inspired millions of Americans to get out and make a difference. In a statement, she noted:
The Women's March convinced Americans that mass civic action was possible. If not for the Women's March, people would not have flooded to airports over a weekend to reject a discriminatory visa ban just days later. We honor the Women's March for acting at a critical moment to overcome the inertia and fear of failure that can impair public mobilization, and for inspiring millions in America and around the world to do the same
For comparison, past recipients of the award include the French publication Charlie Hebdo, and Lee-Anne Walters and Dr. Mona Hanna-Attisha (the people responsible for raising awareness about the water crisis in Flint, Michigan). Clearly, in recognizing the Women's March participants and organizers, PEN America is advancing a rhetoric that resistance is necessary, and especially crucial at this point in history.
Though this news may be cause for celebration, hopefully it will also serve as a reminder that the fight still wages on for women everywhere — although a mini dance-party celebration wouldn't be completely uncalled for.