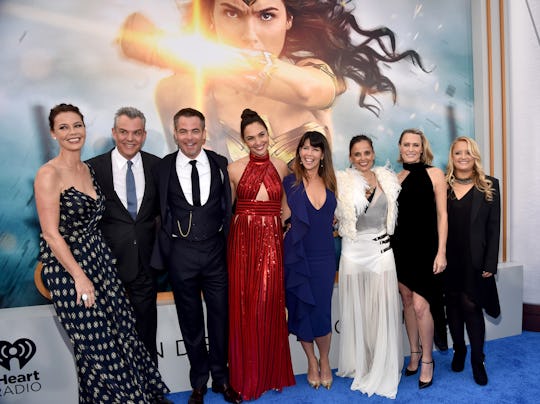 Alberto E. Rodriguez/Getty Images Entertainment/Getty Images
'Wonder Woman' Is About To Make Box Office History — Again
After suffering through years and years of action and superhero movies featuring only male leads, the world is finally celebrating all that a woman can do — and it's about time (no offense, Batman or Captain America). Wonder Woman, the female-led, female-directed superhero movie debuted earlier this month to major success at the box office. And now, Wonder Woman is about to make box office history yet again. Never underestimate the power of a woman, or in this case, the multiple women who made this accomplishment possible.
It didn't take long for Wonder Woman, directed by Patty Jenkins and starring the badass Gal Gadot, to make some major box office history. During the film's opening weekend, according to Forbes, it became the biggest-grossing female-led comic book superhero movie of all time and had the highest ever box office weekend opening in the United States for a movie directed by a woman. Since its debut, the film has continued to stay at the top of the box office week after week. But its latest accomplishment might be the best one yet.
Wonder Woman is now the highest-grossing live-action film directed by a woman, according to People, surpassing Mama Mia! for the honor, and making over $609 million worldwide (and counting). And if these record breaking box office numbers continue, Wonder Woman could also become the highest-grossing film directed by a woman, ever (it would have to pass the female-directed Kung Fu Panda 2 grossing $665.7 million worldwide).
This accomplishment is nothing short of amazing for Jenkins, who had pressure placed upon her at the start for having the responsibility to direct the most expensive film ever shot by a woman, according to The Hollywood Reporter. But Jenkins, who had only ever shot one other movie before Wonder Woman, was not phased by that, telling The Hollywood Reporter:
I'm just trying to make the greatest version of Wonder Woman that I can for people who love the character as much as I do and hope that the movie lives up to all the pressure that's on it.
The movie certainly lived up to that pressure and exceeded expectations. But Jenkins isn't too caught up in the numbers — she's just proud of her accomplishments.
"Of course, it's fascinating when you pull out and, like, records are being broken," Jenkins said on a recent appearance on Late Night with Seth Meyers. "I wasn't thinking about any of that. And they'll be broken again. And I'm excited to be a part in that chain."
The box office numbers and reviews speak for themselves. The great news is, Jenkins is rumored to be involved in the sequel, which means even more records will likely be broken and more money will be made by this powerful and wonderful group of women. How's that for some superhero action?