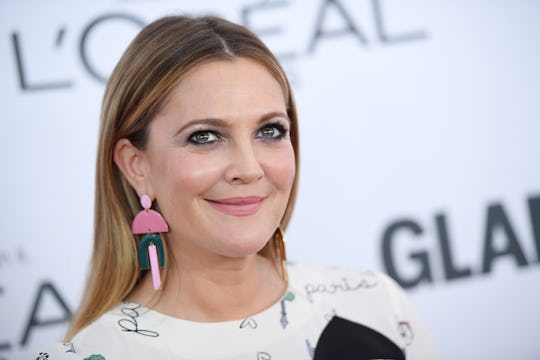 Dimitrios Kambouris/Getty Images Entertainment/Getty Images
Working Moms Will Absolutely Love This Photo Drew Barrymore Shared Of Her Daughter's Calendar
Maintaining a work life balance is a struggle that all women have had to deal with at some point in their lives. And when you become a mom, the pressure to find the perfect balance between work and home becomes all too big to bear. Drew Barrymore — actress, movie producer, beauty mogul, and mom of two young daughters, Olive and Frankie — knows this a little too well. This is why working moms will absolutely love this photo Drew Barrymore shared of her daughter's calendar because her idea is so innovative.
If you play as many roles and have as many jobs as Barrymore does, then you probably understand the struggle. No one ever wants to sacrifice their happiness or lives for a job but work is work. And when traveling for work comes into play, this stress can definitely increase. Striking a balance often seems impossible, but coming up with a solution for your kid to deal with the separation is a great compromise and is exactly what Barrymore has done with her oldest daughter, Olive.
In an Instagram post, Barrymore revealed that her favorite method to softening the blow of spending time apart from her daughter during work is using what she calls "the calendar." The calendar incorporates just what the title entails — a monthly calendar — but the days that Barrymore will be traveling for work are circled on it, creating a visual way for her daughter to quantify how long her mom will be gone for.
Barrymore's daughter gets to be a part of the hands on activity, too. Barrymore wrote in the Instagram caption that for every day that has passed, Olive gets to put an "x" on the calendar, knowing that her mom will be home once that final "x" is made. Not only is visualizing the days important for Barrymore and her daughter, the way she talks about her job is important, too.
Barrymore elaborated on how she approaches the subject of work with her daughter in the caption of the Instagram post. Barrymore wrote:
I always explain to her that I love my job. I don't say "I have to go to work" with a grimace on my face, because I fear it will make her feel negative about something a lot of moms must do to provide. My friend once said "never make your child feel like work is the bad thing taking you away from them" and I realized a lot of us tend to do that to try to make our kids feel better and that work is the yucky thing taking us away. It's a good intention but I am convinced I need to take a different approach. I want to empower my daughters to think work is good and necessary.
Editor's Note: The Instagram post has since been deleted.
Can I get an amen? By turning her time away from her children into something positive, she is empowering them to aspire to work hard when they get older, find a career they love, and be OK with being independent. Her daughters will thank her for this when they're older, even if they're too young to understand this now.
Kids spend almost every moment they're not asleep or in school with their parents. Their mom and dad are more than just support systems to them, parents are their lives. So when either mom or dad (or both) spend some alone time together or have to travel from work, it can be hard for a lot of kids. Children get anxious about their parents leaving them, according to Parents, and very young children have a hard time understanding how time works. When both of these things are combined, it can make the absence of a parent particularly hard.
While technological advancements have tried to cure home sickness by helping people reach loved ones across the globe in a seconds notice (and make you feel like they're right in the room with you, thank you Skype), Barrymore revealed that Facetiming does not work with Olive which she learned "the hard way."
Spending time apart is something that Barrymore's kids have struggled with in the past. In January, Barrymore revealed that Olive had been upset with her because she had been out of town, according to People. In return, Barrymore revealed that she gives her daughter space and is patient with her while she figures things out.
Barrymore's methods of dealing with time apart from her kids is something that other moms could try out — if they work for Barrymore, they could work for other moms, too. Her honesty about this struggle with work life balance and a viable solution to the problem is absolutely refreshing to hear and a little genius at the same time.