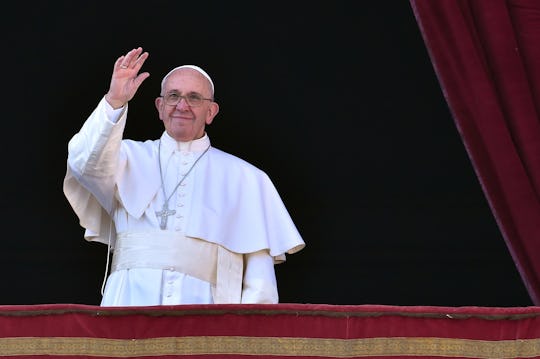 Francenzo Pinto/Getty
World Leaders Call For Peace & Compassion In Annual Christmas Messages - VIDEO
This week, on the heels of the ongoing Syrian refugee crisis in Europe and mounting ISIS terrorist attacks across the globe, leaders around the world echoed the same sentiment with one another in their annual Christmas messages: Universal call for peace. Many of the world leaders' messages invoked not only the horrors of terrorism but our collective weariness of it.
Pope Francis issued his annual Christmas message — the "Urbi et Orbi" (Latin for "From Rome to the World") — in Rome on Friday, condemning terrorist attacks across the globe and urging peace, specifically noting the discordant conflict between these two ideas in the Middle East:
Where God is born, peace is born. And where peace is born, there is no longer room for hatred and for war. Yet precisely where the incarnate Son of God came into the world, tensions and violence persist, and peace remains a gift to be implored and built.
Acknowledging a culture of consumerism in the world today, Pope Francis said in his Christmas Mass Thursday night that Catholics should to respond this culture with acts that are "simple, balanced, consistent, capable of seeing and doing what is essential." Watch Pope Francis's Christmas message from St. Peter's Square in Rome Friday:
Meanwhile, President Obama delivered his Christmas message in his weekly address to the American people, with First Lady Michelle at his side. President Obama stressed compassion as both a Christian and American value and then thanked American troops for their service to the country, saying "we also honor all who defend those values in our country's uniform." Watch President Obama's Christmas address below:
Newly-elected Canadian Prime Minister Justin Trudeau offered his first Christmas message to Canadians this year, emphasizing the acts of giving as well as receiving at Christmas-time. Trudeau also acknowledged his country's commitment to take in more than 10,000 Syrian refugees by the end of this year. Here's Trudeau's Christmas message in full:
British Prime Minister David Cameron released his annual Christmas message on Facebook. His comments have drawn some controversy in calling Britain a "Christian country" — Cameron faced similar controversy with his Christmas message in 2014. Read Cameron's Christmas message below:
And finally, Queen Elizabeth II made her Christmas speech on Friday morning. The 89-year old royal offered a message of hope at a time when "the world has had to confront moments of darkness this year," she said in her Christmas broadcast, which she composes herself each year. Watch Her Majesty's beautiful message below:
Images: Vincenzo Pinto/Getty; Vatican, The White House, FactPointVideo, CBS News/YouTube; David Cameron/Twitter