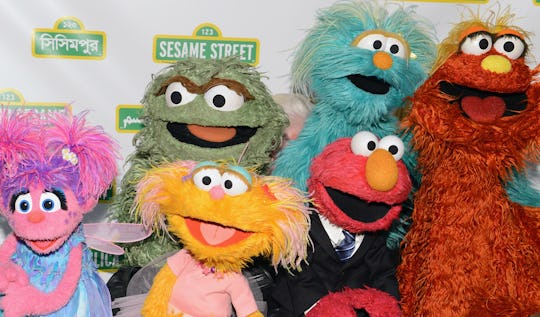 Andrew H. Walker/Getty Images Entertainment/Getty Images
The Fate Of 'Sesame Street' Under Trump's Budget
Families who depend on PBS Kids as a helpful half-hour of learning after school may soon have to surrender their shows. Under President Donald Trump's proposed budget, which was rolled out this week, the Corporation for Public Broadcasting would lose all of its federal funding. But would these programs disappear completely? Would another network pick up Sesame Street if Trump cuts public media, or is it already safely in the hands of another subscription service?
Patricia Harrison, the president and CEO of CPB, warned of the proposed cuts' potential impact in a statement, Thursday, saying, "The elimination of federal funding to CPB would initially devastate and ultimately destroy public media's role in early childhood education, public safety, connecting citizens to our history, and promoting civil discussions for Americans in rural and urban communities alike." She's certainly not alone in voicing those fears; Plenty are worried about what will happen to the beloved TV show that first aired in 1969.
Currently, you can watch full episodes of Sesame Street online through PBS Kids' website, but soon users might have to look elsewhere. Let it be known that Big Bird will live on — for a privileged portion of viewers, at least. Sesame Street's new episodes air on HBO before PBS, so all is not lost; You can still tune in on your TV if you have cable that includes HBO or an online HBO streaming service. TV subscriptions in general, however, aren't necessarily affordable for all. Many families can't afford to spend that extra $15, no matter how much their children adore Elmo's contagious giggle. For many, the free, public programming is a much appreciated gift, and the current $1.35 per year that the entirety of public broadcasting costs each citizen is merely a drop in the bucket.
Sesame Workshop, the nonprofit educational organization that creates Sesame Street, spoke out against the budget cuts for public programming in a statement this week. Though Sesame Street will live on in private networks, Sesame Workshop stands behind increased access to these programs:
PBS makes Sesame Street available to all Americans and thereby continues to play a major role in helping less privileged kids gain access to preschool education that has proven and enduring value. While Sesame Workshop currently receives no direct funding from CPB or PBS, we stand firmly and passionately in support of the vital public investment that allows them to continue this important work.
Trump's proposed budget, as released on Thursday, relies on cutting funding for 19 agencies in order to put more money into military spending and national security. His drastic changes also include obliterating the National Endowment for the Arts and the National Endowment for the Humanities — an unprecedented move. White House Budget Director Mick Mulvaney defended the decision on MSNBC, asking: "Can we really continue to ask a coal miner in West Virginia or a single mom in Detroit to pay for these programs?" Then deciding: "The answer was no. We can ask them to pay for defense and we will, but we can't ask them to continue to pay for the Corporation for Public Broadcasting."
To many, though, the answer to Mulvaney's inquiry is a resounding "yes."