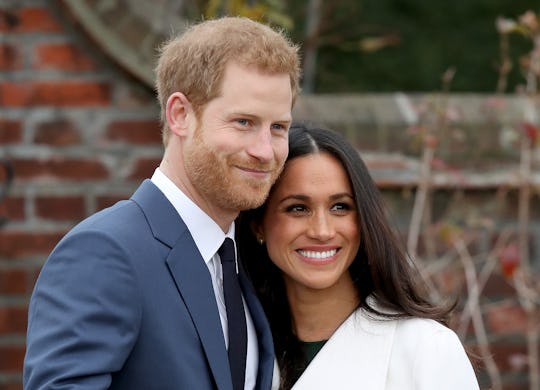 Chris Jackson/Getty Images Entertainment/Getty Images
Will Harry & Meghan's Kids Be... Gasp... American?
Early Monday morning, just as the long Thanksgiving weekend came to a close, those of us on the other side of the pond woke up to some splendid news from Kensington Palace: Prince Harry and actress Meghan Markle have announced their royal engagement. Understandably, the world has so many questions about the impending nuptials and their lives together afterwards. For example, if they decide to grow their family, would Prince Harry and Meghan Markle's children be American or British? Or both?
OK, so first things first: After the Prince Harry — Queen Elizabeth's grandson, who's fifth-in-line to the British throne, according to Reuters — and Markle, who have been together since July 2016, tie the knot in Spring of 2018, the 36-year-old Suits actress may choose to update her passport. Their engagement is historic not only because Markle is American — growing up in California — but she will be the first American to marry into the royal family "to be given the title of Her Royal Highness (HRH)", as TIME reported. That's certainly going to change things up, but it's safe to assume that they'll reside over in the United Kingdom following their wedding day.
Typically, when an American marries a Brit and they plan to settle in the United Kingdom, they do not lose their U.S. citizenship, nor do they automatically gain U.K citizenship, according to the U.S. Embassy & Consulates in the United Kingdom. So, unless Markle applies for citizenship — or "naturalization" — it'll be a number of years before things are official.
Of course, those are the rules for non-royals, and as TMZ pointed out, "you can't use a royal title unless you're a citizen." So she may be filing those papers ASAP.
Markle won't become a princess, like Prince William's wife Kate Middleton, but she would become a duchess, according to Reuters. And thanks to a 100-year-old law, Markle and Prince Harry's future children would not be a prince or princess, as The Mirror reported, rather they would gain the title of a lord or a lady. That is unless the Queen changes things up, like she did for Prince William and Middleton's children, according to The Mirror.
But, beyond their royal status, which nationality would their future children take? It appears that it'll depend on where they are psychically born and what Prince Harry and Markle decide for them.
If, for example, their children are born in the United Kingdom, they may be eligible for American citizenship, should they meet certain requirements and submit the necessary documents, according to the U.S. Embassy & Consulates in the United Kingdom. Let's say their children are born in the United Kingdom, they would automatically become British as Prince Harry is a British citizen, according to the U.K's government website. Of course, again, these are the rules for those without royal titles and things may very well be quite different for their future family.
But, assuming that Markle doesn't renounce her American citizenship, there is a possibility that her and Prince Harry's would-be children could carry dual-citizenship. Just how likely that is is up for debate, since it does take several years to acquire U.K. citizenship and we're talking about the royal family here. But, let's say Markle and Prince Harry do want their future kids carry roots from both of their parents, he or she would be "the first monarch in British history to be both a U.S. and British citizen," according to TMZ.
So, beyond Markle joining the royal family, her engagement to Prince Harry really is quite historic and could really change things up in textbooks to be written years from now. There are a number of possibilities, but it doesn't seem like some partially American royal kids are totally out of the question.
Check out Romper's new video series, Romper's Doula Diaries:
Watch full episodes of Romper's Doula Diaries on Facebook Watch.