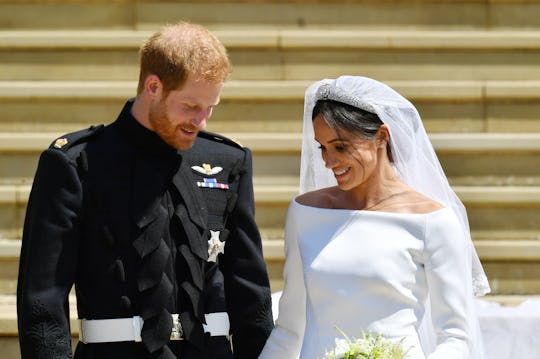 WPA Pool/Getty Images Entertainment/Getty Images
If Prince Harry & Meghan Markle Have Kids, Here Are The Royal Titles They Could Be Given
When American actress Meghan Markle married British royalty, Prince Harry, during a gorgeous ceremony last week, Markle's life changed forever. One of these changes included giving up her title of "actress" to "Duchess of Sussex" (which, to me, sounds like a pretty fair and even exchange). But now that she has a title of her own, some are probably wondering if Prince Harry and Meghan Markle's kids will get royal titles, when they eventually have them.
You would think that watching Prince Harry and Markle say their "I do's" on television would be enough excitement for royal watchers. But now that the wedding is over, people are looking at the couple and urging them towards their next stage in life — to start a family. It might just be a little too early for that. After all, the couple deserves all the time in the world to enjoy their life as newlyweds and doesn't need the pressure on them to immediately start a family.
But in the mean time, people are likely wondering what title Prince Harry and Markle's children will get when they have them — especially since it's basically every little kid's dream to become a prince or princess when they're older. Unfortunately for Markle and Prince Harry's children, they won't get to be princes or princesses if they are born any time soon, according to Good Housekeeping. Cue the sadness. Instead, their children will get the titles of "lord" and "lady" since Markle and Prince Harry have the title of duke and duchess.
The reasoning behind their kids' future titles is a little complicated. In 1917, Queen Elizabeth's grandfather, King George, declared that the title "prince" or "princess" would be limited to "all the children of the sovereign (also known as the current king or queen), all male-line grandchildren of the sovereign, and the eldest son of the eldest son of the Prince of Wales," according to the the Belville News-Democrat. Since Queen Elizabeth is the current sovereign (at 92 years old, according to The Sun), this means that all of her kids, and her kids' male children (ahem, Prince Harry and Prince William) rightfully get titles. Because Prince Harry's kids don't fall under this rule, they wouldn't get these official titles.
However, there are a few exceptions to this rule. Queen Elizabeth famously changed this wording just a little bit in 2011 before Prince William's wife, Kate Middleton, gave birth, according to CBS News. By doing this, Queen Elizabeth's changes determined that birth order, not gender, would come first in royal succession. Without this change, according to the Belville News-Democrat, Princess Charlotte would have otherwise been referred to as "Lady Charlotte."
There is a possibility that Prince Harry and Markle's children could one day get a more official title than lord or lady — but it might require some time. If Prince Harry and Markle have kids any time soon, Queen Elizabeth will still likely be the reigning monarch, according to Yahoo! News. However, with Prince Harry's father, Prince Charles, next in line to inherit the throne, according to People, it is possible that he could be king some time within the next few years. And if Prince Harry and Markle were to give birth with Prince Charles as King, according to Yahoo! News, their kids would be given the title of prince and princess (because their grandfather would be the king).
Bottom line — their kids would only get a title if Prince Charles were to become king before Markle gets pregnant, according to Good Housekeeping. But just because royal watchers are now on pregnancy watch doesn't mean it's going to happen any time soon. During their first televised interview together, right after their engagement, Prince Harry said that he and Markle were taking things "one step at a time" and that they would hopefully "start a family in the near future," according to TIME.
Timing is everything — and this certainly adheres to whether or not Prince Harry and Markle's kids inherit a royal title.