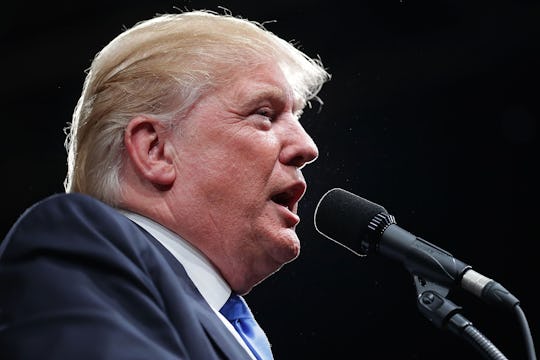 Chip Somodevilla/Getty Images News/Getty Images
Would Trump Live In The White House If He Wins? Election Day Is Almost Upon Us
With just days until the much-anticipated and much-anxiety-inducing Election Day, many are likely imagining what the different outcomes of the presidential race would look like. The two major party nominees, Republican Party presidential nominee Donald Trump and Democratic Party presidential nominee Hillary Clinton, are going all out on the campaign trail for the final push before Nov. 8. So, if the presidential election goes in favor of the Republican Party, would Trump live in the White House if he wins? Apparently, he's noted in the past that he would "rarely leave."
According to a report by Judy Kurtz in The Hill blog, Trump told the blog that his duties as president would prevent him from leaving the White House for vacations.
"I would rarely leave the White House because there's so much work to be done," Trump said. "I would not be a president who took vacations. I would not be a president that takes time off." He added, "You don't have time to take time off."
This quote also appeared on a press release uploaded to Trump's campaign website. Since Trump has reportedly indicated he would rarely leave the White House, it's safe to say he would live there if elected. And to make his future plans absolutely clear, he confirmed this to The Hill:
Yes, I would live in the White House because it's the appropriate thing to do. I would work. And I would make the country great again. That's what you have to do.
As The Washington Post reported, Barbara Walters asked Trump and his wife Melania Trump about the prospect of living in the White House in a sit-down interview last November. Walters noted to the Trumps that living at the White House itself may not actually be a "step up" for them – you know, considering their lavish New York City penthouse apartment.
"For many the White House is a step up, I'm looking around this room... the White House might be a step down," Walters said. But the Republican presidential nominee insisted that the White House is "special" nonetheless.
"The White House is the White House, it's just a spectacular place," he said. "And it's... you know... something that represents something very special."
Only time will confirm which presidential nominee will actually live in the White House following this election cycle. With early voting underway, we're (thankfully) in the homestretch, folks.