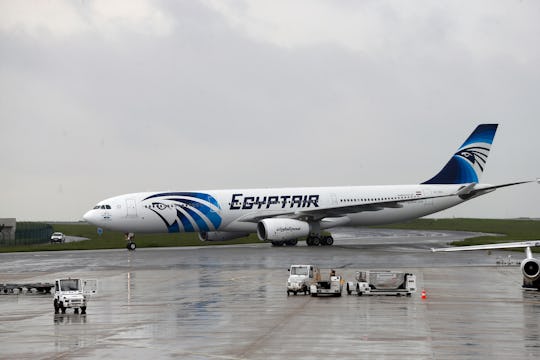 THOMAS SAMSON/AFP/Getty Images
Wreckage From EgyptAir Flight MS804 Found In Mediterranean Sea — REPORT
News broke early Thursday morning that a plane bound for Cairo from Paris had dropped off the radar, crashing in the Mediterranean Sea. Now, the Mirror has reported that wreckage from EgyptAir flight MS804 has been found. Pieces of plastic and two life jackets were discovered in the sea about 230 miles south of Crete. The cause of the crash is still unknown at this time. According to Greek authorities, the plane took a sharp left turn, then spun around in the opposite direction before dropping from a cruising altitude of 37,000 feet to 15,000 feet and then disappearing off radars. The wreckage was found in waters that are under Egyptian jurisdiction.
The plane was carrying 66 people – 10 crew members and 56 passengers, three of whom were children – when it crashed at 2:45 am Cairo time, according to the International Business Times. Egyptian Civil Avation Minister Sherif Fathi and Russian intelligence agency FSB have said that the crash was likely caused by a terror attack, however, British Prime Minister David Cameron and U.S. Secretary of State John Kerry are refusing to speculate at this time. U.S. presidential candidate and professional rabble-rouser Donald Trump is, of course, also blaming terrorists, though there is no evidence to confirm that suspicion at this time.
CNN has reported that the 13-year-old Airbus A320 underwent routine maintenance checks on Wednesday in Cairo, and the pilot had about 6,000 hours of experience. Weather conditions were clear at the time of the crash, and there were no special cargo or dangerous goods aboard the flight, according to EgyptAir. CNN also points out that there is still a glimmer of hope, as the water temperatures in the eastern Mediterranean are in the mid-to-low 70s. According to meteorologist Pedram Javaheri, healthy people could potentially survive up to 40 hours in such conditions. Egyptian and Greek ships and aircraft are scouring the region.
30 of the passengers were Egyptian, 15 were French. The rest hailed from Iraq, Britain, Belgium, Kuwait, Saudi Arabia, Sudan, Chad, Portugal, Algeria and Canada. At special centers at both Cairo International Airport and Charles de Gaulle Airport in Paris, translators and doctors are on hand to lend support to the families of the victims. Over 30 people have gathered at the Cairo airport, where they're reportedly angry about the lack of information being shared about the crash. "We learn from other countries what happened," one man was heard screaming. Hopefully more news, better news, will be forthcoming.
This story is developing...