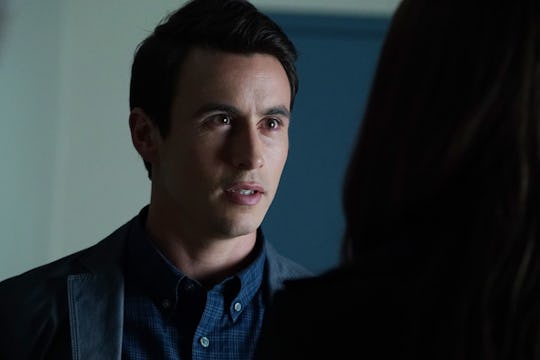 Eric McCandless/Freeform
Wren & Rollins Could Be Brothers On 'Pretty Little Liars' If Huw Collins' Tweet Is True
A lot of theories about Season 7 of Pretty Little Liars have had Wren at the heart of them. Though he hasn't shown his face since the show jumped forward five years, there was an intriguing reference to him back when Hanna ran into Melissa in London. Then when yet another shady Brit entered the picture in the form of Alison's husband slash sister's therapist Elliot Rollins, fans began to wonder if there could be some connection between the two men. Perhaps questionable British men have a secret club where they meet to figure out how to best defraud Philadelphia youths? The actor who plays Rollins added fuel to the fire when he dropped a very interesting tweet referencing a possible connection between the two. Wren and Rollins could be brothers if Huw Collins' tweet is to be believed.
Of course, it's totally possible that Collins is just aware of the theories and having some fun fueling the flames. It would be sort of silly if the two British characters in the cast just happened to be related, but then again this is Pretty Little Liars. Ridiculousness has never stopped this show from following through on a storyline. In fact, that's part of the show's appeal: unexpected connections, crazy backstories, and surprisingly relatives are all part of the package.
But then the question becomes: would an actor really reveal such a potentially big spoiler in a tweet?
That's the main thing holding up this theory. If there's some unknown bond between Wren and Rollins, then the show would want to handle that reveal in such a way as to maximize the shock factor. Granted, not every viewer keeps up with the cast on social media but even so it seems like too big a thing to spoil. Then there's the language of Collins' tweets. He captioned the photo of him with actor Julian Morris "long lost something" which does imply a relationship between them, but not necessarily a familial one. They could be long lost friends, exes, cricket teammates: there are a lot of possibilities. (And if anything, Collins' emoji usage is pointing more towards Rollins being Amoji than anything else.)
Then a fan tweeted, "OMG. Are Elliott and Wren brothers?!?!?!" and Collins retweeted the following cryptic response:
The cast and crew may be having some fun fielding the theory but that doesn't mean it'll come true. But Wren is returning for Season 7 in some capacity, and Collins spoke to Bustle about how much he would enjoy getting to play "evil buddies" with Morris. So even if the connection between Wren and Rollins ends up less fraternal, that doesn't mean it's not there. It's a safe bet that something is going on with those Brits.